Are you thinking of relocating or moving your automobile across state lines but don't know where to start, get a quotation, or how auto transport works? Moving your automobiles can be overwhelming if you're unfamiliar with how auto transport works.
But not to worry, this article has compiled a wealth of information on the processes involved in auto transport. Moving your vehicle can be done in two ways: using an open trailer or an enclosed auto transport.
Are you a dealer of exotic cars worried about possible dangers that could occur using open transportation? In that case, choose one of the best enclosed auto transport and it will be the best option for you. Let's get started!
How Enclosed Auto Transport Works
Enclosed vehicle transport or enclosed car shipping is a type of auto transport that provides extra safety and protection for vehicles. It is mostly used when shipping luxury or exotic cars. The process is quite simple.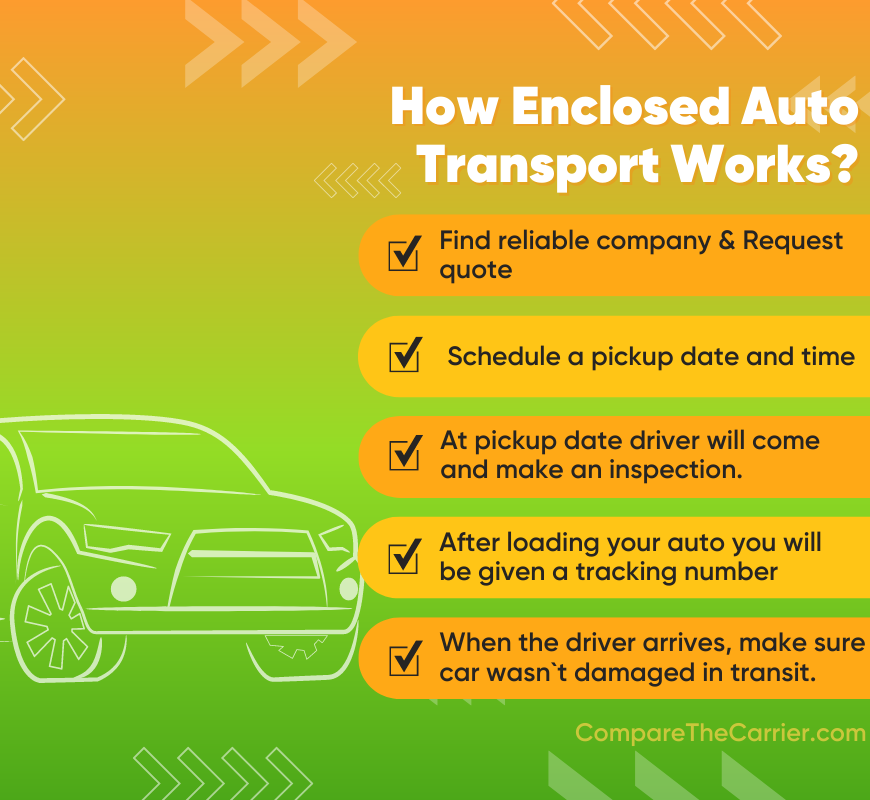 First, you need to find a trusted and reputable auto shipping company and request a quote. Once you have found a company that offers the best-enclosed car shipping services. The next thing is to schedule a pickup date and time to get your vehicle in transit as soon as possible.
Most shipping companies request at least 24 hours' notice before scheduling. On the scheduled date for pick up, the driver will arrive at your location to perform an inspection. This is to determine your vehicle's condition before loading it onto the trailer or truck. Before the driver takes off, you will be given a tracking number to keep track of your shipment and know its location per time.
Upon arrival, the driver unloads and brings your vehicle to you. Do well to inspect it to make sure it sustained no damage in transit.
When the driver arrives, he unloads and brings your vehicle to you. Make sure it was not damaged in transit.
Open vs. Enclosed Auto Transport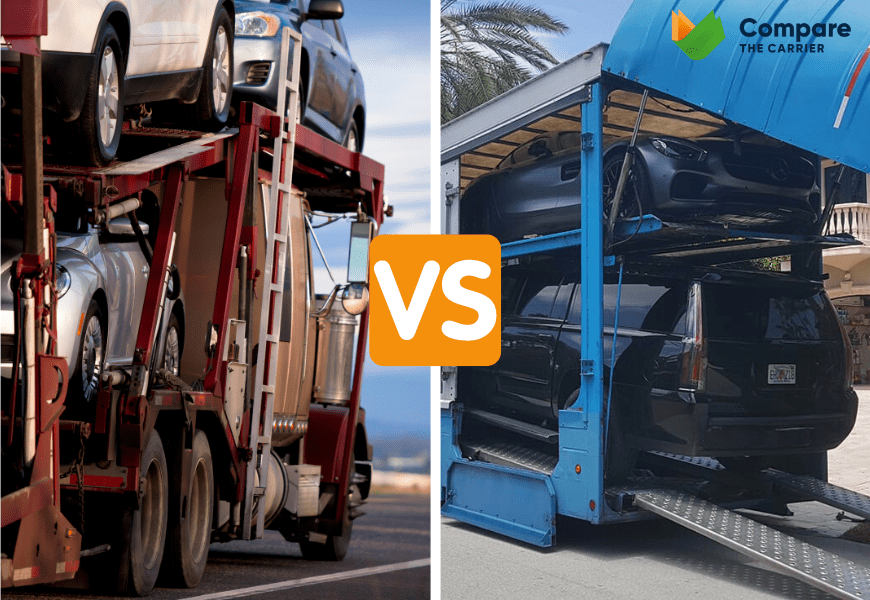 While searching for a reputable shipping service, you will most likely have to pick between two options: open car shipping or enclosed vehicle transport. But before you make a decision, you must first understand the pros and cons of automobile transport options.
Below are the differences between open and enclosed auto transport so you can choose the best one based on your vehicle and transportation needs.
What is Open Auto Transport?
Open auto transport is a common method of shipping vehicles in a truck of between 75 and 80 feet in length. This type of truck hauls a low-level trailer with a row containing cars on the top and a shorter row of cars beneath. There are no exterior coverings on the truck, exposing the vehicle to weather elements.
This shipping style can accommodate between 7 to 10 vehicles depending on the size and weight of the vehicles. Below are the pros and cons of open auto transport.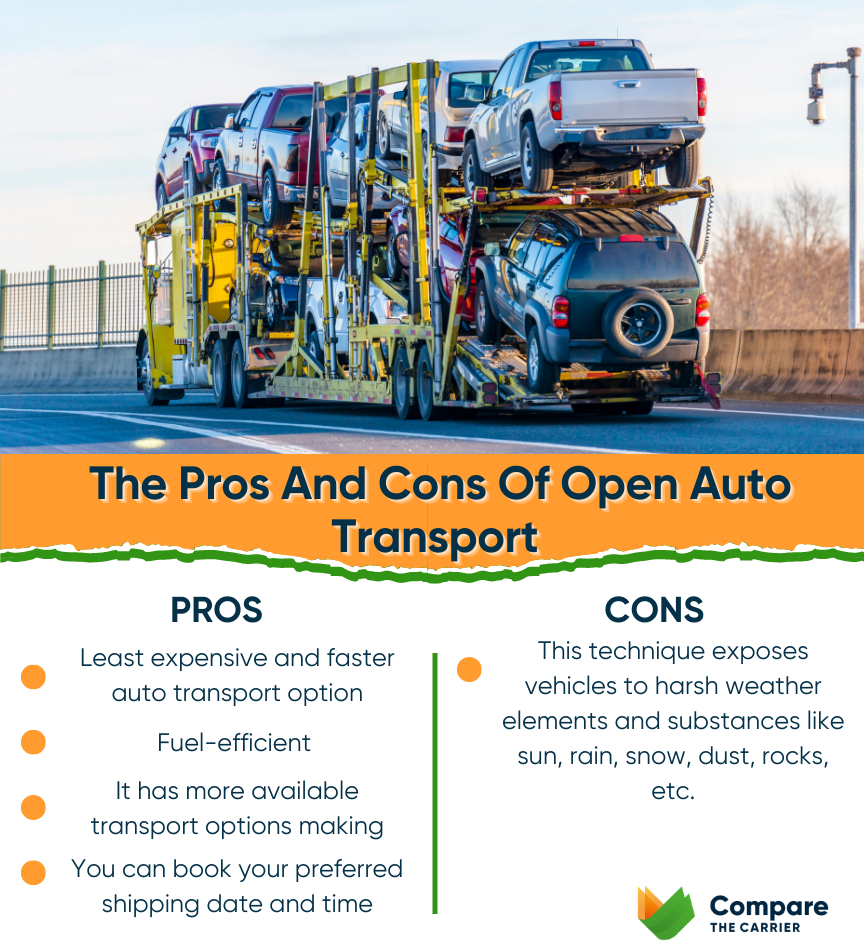 PROS:
CONS:
What is Enclosed Auto Transport?
Enclosed auto transport is another method used for shipping vehicles that need extra protection and safety inside a fully enclosed trailer. This shipping style is typically used for moving luxury or exotic cars. Enclosed carriers are smaller and can't accommodate more than seven vehicles at a time.
It is faster when compared to open auto transport. However, there are limited enclosed auto transport options in transit making them harder to book and more expensive than open auto transport. Below are the pros and cons of enclosed auto transport.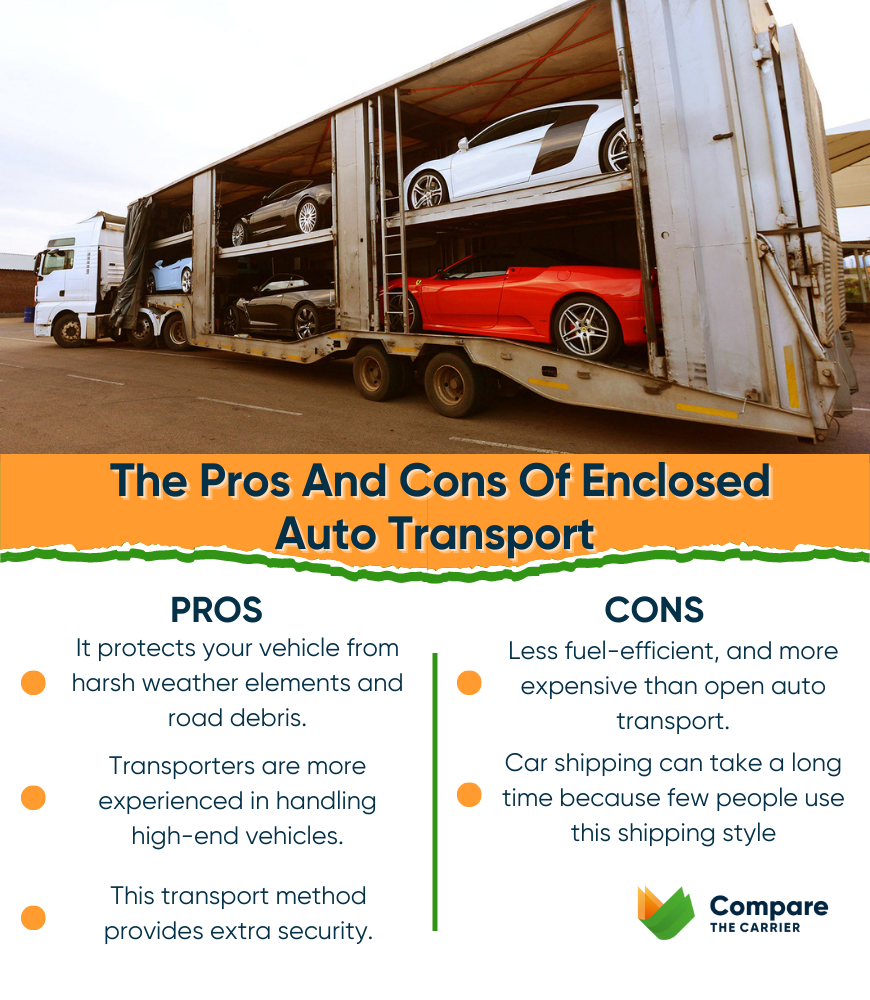 PROS:
CONS:
open auto transport and enclosed auto transport, consider the type and value of the vehicle. If you have a luxury, classic or exotic vehicle, you will probably want to take caution and use a fully enclosed trailer to transport your vehicle.
Whereas, if you have a used or older model vehicle, then open auto transport can serve.
Enclosed Car Transport Rates
How Much It Costs
In dealing with enclosed auto transport, it's important to understand both its cost and the factors affecting it. The first thing to note is that, on average, the cost of enclosed car transport is about $2 per mile. This is almost twice the cost of open transport costs.
Moreover, many other factors can shape the cost of enclosed auto transport including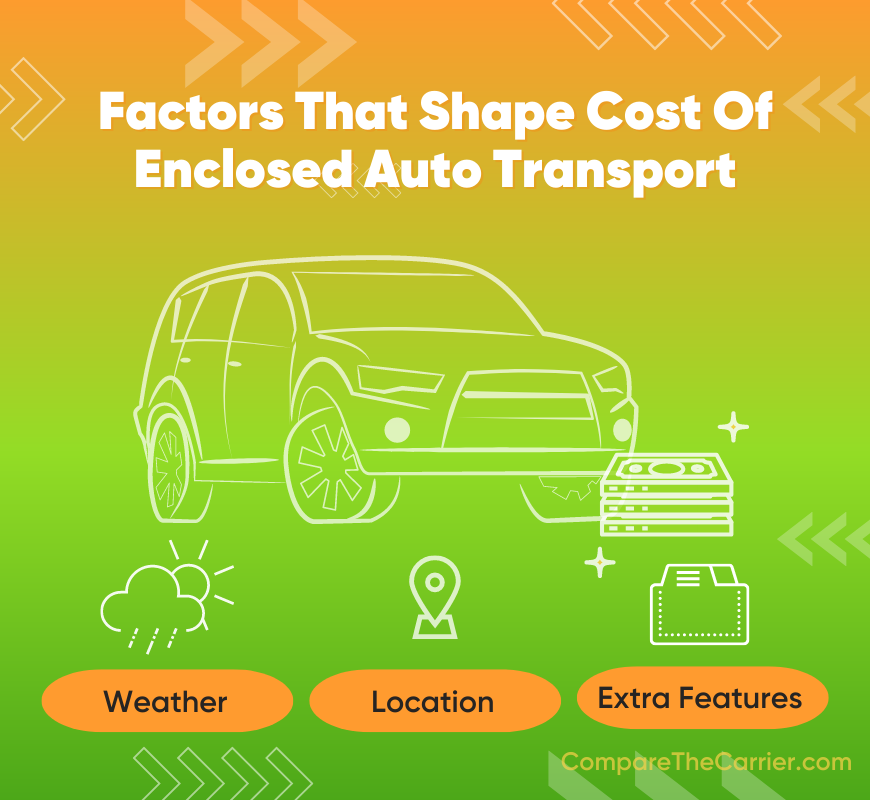 How to Compare Enclosed Auto Transport Quotes
Shipping cars are often a nerve-racking experience for the shipper because of the possibility of damage or even accidents. So as a client, ensure you look out for the factors below before choosing an auto transport option.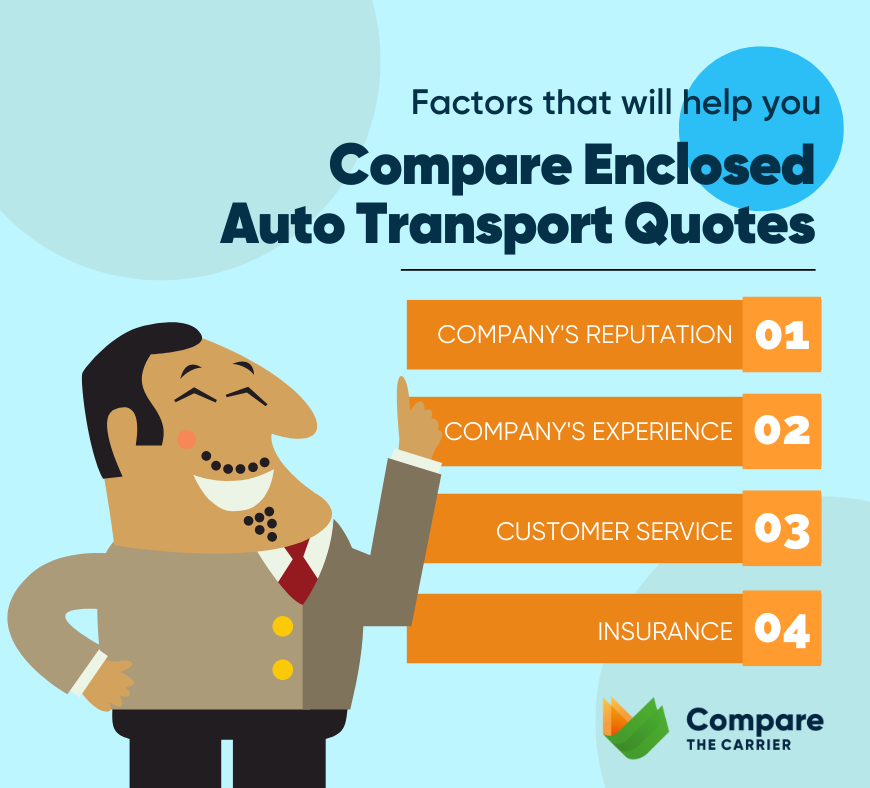 Insurance For Enclosed Vehicle Transport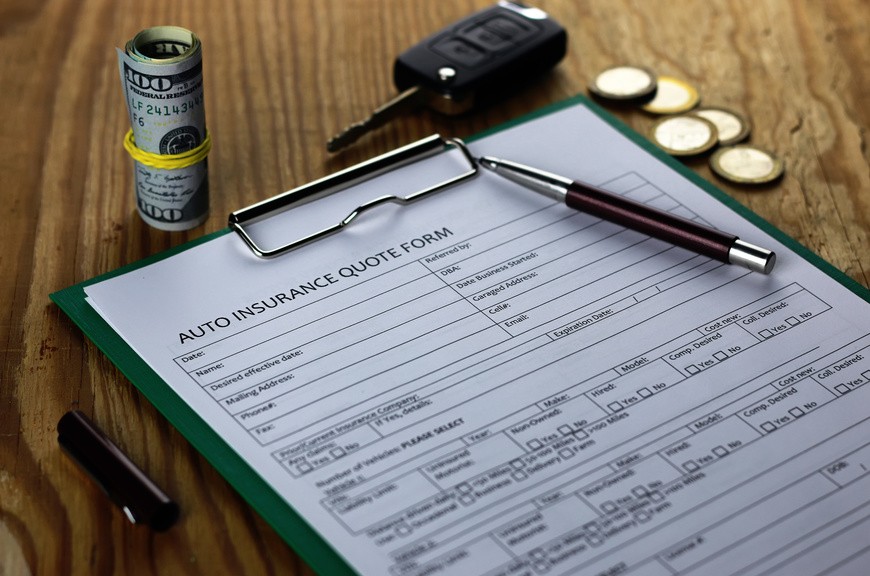 There are two types of auto transport companies, namely brokers and carriers. Carriers are companies that own their fleet of trucks, while brokers are companies that don't own their trucks.
Instead, they bid your shipment with carriers, serving as middlemen between the shipper and carriers.
Overall, it's important to get insurance coverage when shipping your vehicle, to minimize the risk. Else, you might lose your investments. There are many insurance options to pick from, so do research and read the fine print before committing to one.
Why Do You Need Insurance Coverage For Enclosed Auto Shipping?
Before diving into the best insurance coverage for enclosed auto shipping, you need to first understand the need for insurance. Your car is an asset, and any damage that occurs in transit can incur more expenses for you.
That is why you need insurance coverage to protect your vehicle against potential loss. Transport companies usually offer these shipping insurance services.
Comprehensive Auto Insurance Coverage
Comprehensive auto insurance coverage is the best insurance policy. It protects your vehicle against possible damages like collision, fire, or vandalism and offers maximum security and protection against theft. The cost of this insurance may vary, as it is the auto transport company you choose that determines the terms and coverage amount.
What will be covered?
Most auto transport companies have cargo and liability insurance covering all types of transit-related damages. However, bear in mind that the coverage only protects the car and not the things within it. So, you should take out personal items before shipping.
Bill of Lading For Enclosed Vehicle Transport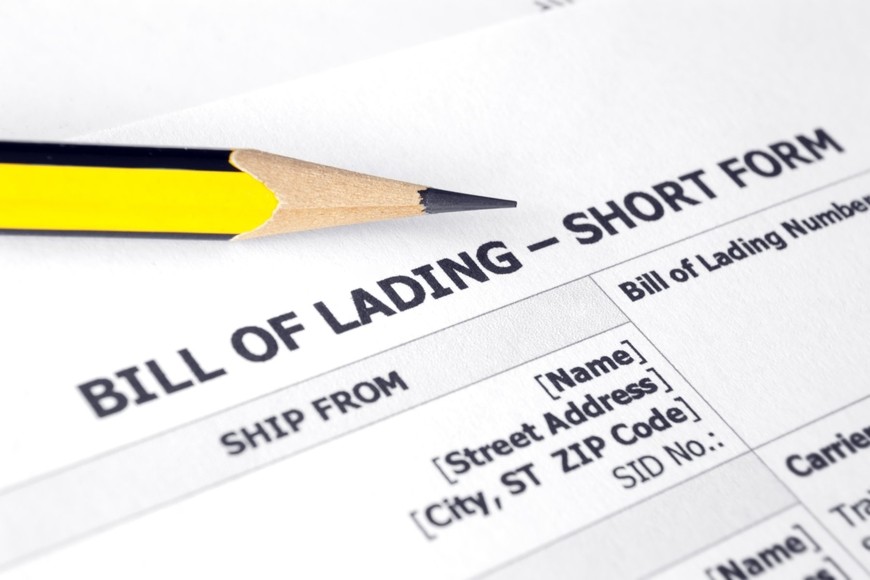 A bill of lading is an essential document in the vehicle transportation process. Trucks, cars, motorcycles, and exotic or classic vehicles all need a bill of lading when hauling. But, what is a bill of lading? What does it do? What details must it contain? If it's your first time shipping a vehicle, this terminology may sound strange to you. Nonetheless, let's dive in and learn what a bill of lading is and why it's so important.
What is a Bill of Lading?
A bill of lading (often referred to as B.O.L) is an important legal contract between you and the auto transport company.
It is prepared by the auto transport company and it specifies important information about the vehicle in shipment such as the vehicle model, where it is being transported to and from, and who is transporting it.
You and the driver transporting your vehicles must have a copy before shipment. The bill of lading serves as a record-keeping document that is requested before your vehicle is turned over to the transportation company at the other end of the journey.
The insurance company will also need this document in case there is a claim, arising from a vehicle shipment.
What Information Needs to be on a Bill of Lading?
There is six important detailed information that must appear on the bill of lading, and these include:
In summary, if you are looking for the best auto transport method to ship your exotic cars, enclosed auto transport offers the best safety, security, and an attractive package of vehicle transportation services. Shipping companies take extra measures in offering these services to ensure the safe landing of the vehicles to their destination at the best status.
How much will my car shipping cost exactly?
We recommend contacting our car shipping professionals for a specific quote, based on all the necessary details provided.
What kind of vehicle do we transport?
We transport all vehicles, including cars, motorcycles, and trucks. Contact us to discuss shipping your vehicle and get a unique quote for your specific needs
How do I get a shipping quote for my vehicle?
We offer customers a convenient online instant auto transport quote calculator or you can as well speak with one of our car shipping professionals to guide you through the process. You just have to provide the pickup and delivery locations, the vehicle makes, model, and pick-up dates.