All in all, there are 2 main options: to hire a local auto transport company or to book car shipping with a national car shipping company. Of course, each option has pros and cons and we will tell you about them. But at first, let's take a closer look at both alternatives and understand the difference between local auto transport and national shipping services.
You can check the whole article or navigate using this plan:
---
Local Car Shipping Companies
Local auto transport companies are usually small companies that own a couple of small car haulers. Such companies usually have only one driver, who plans his route and transports the vehicles within one state or to nearby cities in other states.

---
National Auto Transportation Companies
National car shipping companies are usually large shipping companies with a fleet of car haulers of different types and sizes. Once the company can have both enclosed and open trailers, with the last carrying from 3 to 12 vehicles at a time.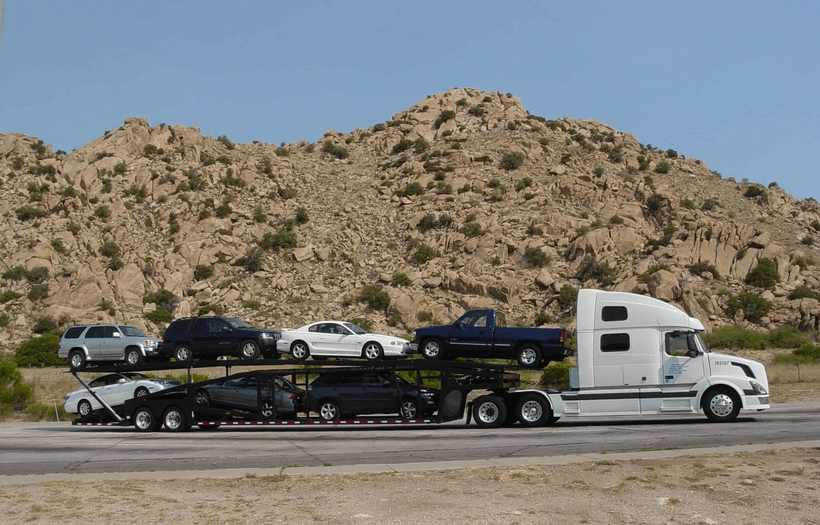 Large companies have a professional team of dispatchers, who plan drivers' routes and call customers to negotiate the time of the pick-up and drop-off. Such companies cover all 48 states and sometimes they even have special team drivers who exchange each other, so they go from coast to coast within 5-6 days instead of the usual 7-10 days.
To choose such a company you can look through our top 25 best car shipping companies. Choosing a company effect the farther transportation, so pay some attention to it.
---
So What Is A Better Choice For You?
If you need to move your vehicle to a nearby city or state and you are rather flexible with dates, you may try to find a local carrier. Usually, they require some time to plan the route and find a couple of other cars going the same route so the trailer will be fully loaded otherwise the driver will lose his money (unless you pay as for the shipping of 2 or 3 vehicles).
If you are in need of state-to-state car towing services for a relatively short distance (200-300 miles), it may also be easier to hire a local carrier. That is especially true for sparsely populated states like the Dakotas, Montana, Wyoming, the central and eastern part of the Washington state, Nebraska, New Mexico, Iowa, and northern Minnesota.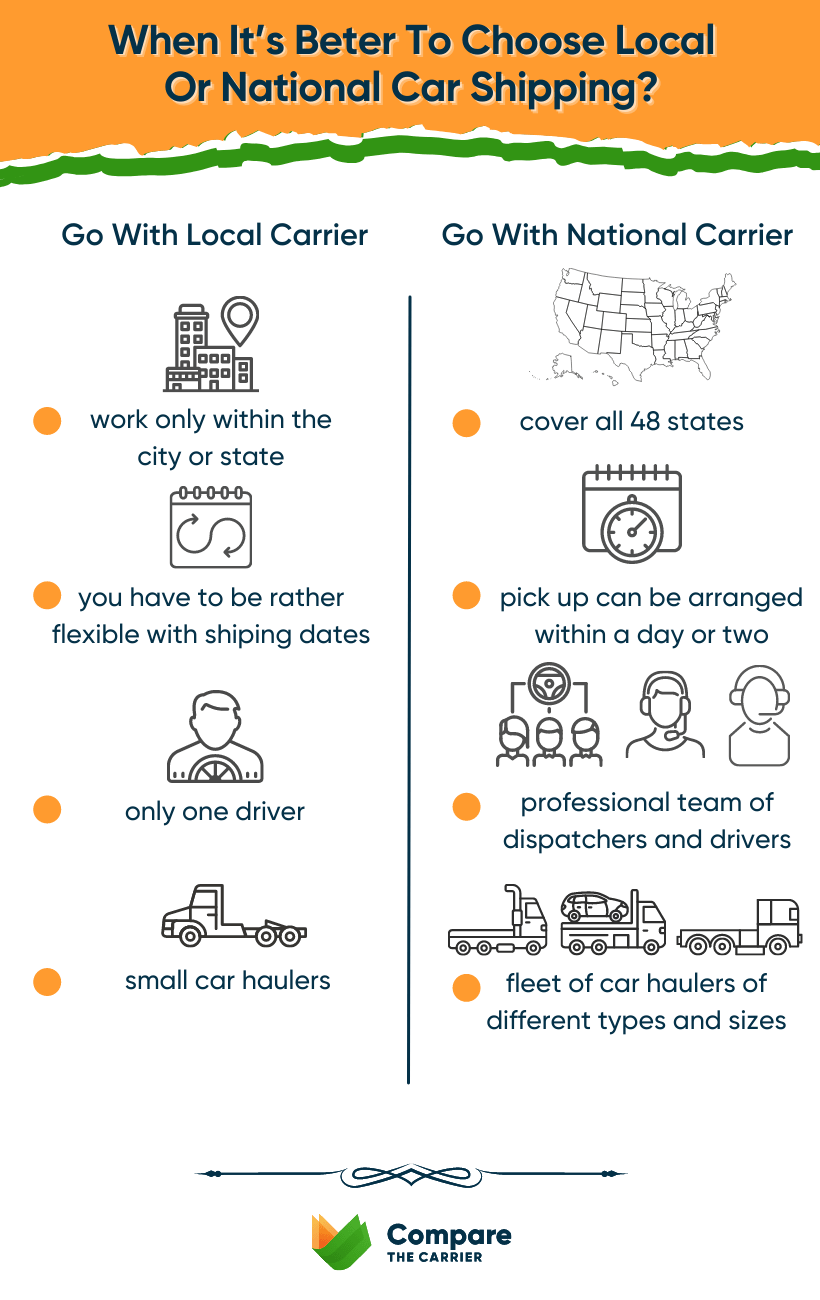 In case you are in a hurry or if you need to have your vehicle transported for quite a long distance, booking a car shipping service with a national car shipping company will be the best choice. Such companies have lots of drivers going anywhere within the US and in most cases, the pick-up can be arranged within a day or two (in some cases, the vehicle can even be picked up on the day shipping was booked).
Besides that, in case something happens and the trailer breaks down or the driver assigned to your order will be running late, the company can find and schedule another driver to transport your vehicle. Unfortunately, the local car shipping company will be unable to resolve the issue that fast and you will have to wait or look for another local driver.
Another important point is the enclosed transportation service, as local companies operate only a couple of trailers they usually offer open trailer transport only. It's a great option to ship some usual Ford, but for an expensive car, we would recommend you to choose an enclosed trailer. The enclosed trailer can guarantee full coverage of the vehicle from any weather and natural factors.
In case you need enclosed trailer transportation you should go with national auto transport. And to choose some that have a great database of professional enclosed carrier companies all around USA you can check our list of the best enclosed auto transport companies.
---
What You Should Pay Attention To
When Making A Decision
It's a quite important thing we want to pay your attention to – is insurance coverage. Some small local companies may not be certified or insured to transport vehicles. Therefore, if you choose a local carrier, we recommend you to check the company's MC or USDOT number on the FMCSA website and make sure the company has active insurance.
Unlike local companies, large national car carriers are always insured and have insurance coverage up to 250 000 per each car on the trailer. With such coverage, you can be sure that if something happens, you will get reimbursement from the insurance company.
Of course, no matter what company you choose, your vehicle will be delivered to its destination. But we would like to advise you to consider all the options when choosing the carrier as we understand how important the timeframe may be and the way your vehicle is treated. We are sure that with the abovementioned details you will make the right choice that will work for you the best.