Overseas car transport may look overwhelming at a glance but only requires a few steps to get it off the table. Surprisingly, these things are quite simple to do, but you must understand their nitty-gritty to do them.
Before anything else, you must ask and answer some important questions like:
Our guide will answer these questions and give you insight into making the process a smooth one. Let's get into it!
Shipping A Car Overseas At A Glance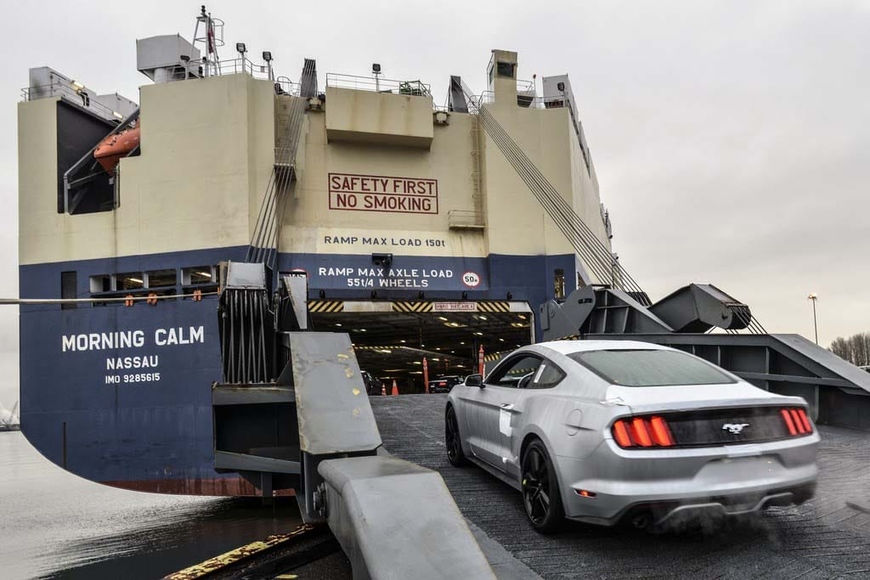 Overseas car/vehicle transport simply involves shipping your vehicle (sedan, SUV, big lorry, buses, etc.) from one location to another. This could be from the port of your vehicle's location to its destination port or from the car's destination port to your doorstep.
There are many things to consider, such as:
First of many, you must get an excellent car shipper or broker. While this may sound like an enormous task, it is quite simple to find one. Platforms like CompareTheCarrier.com can help you find them.
But how does finding the perfect service for the job work? Here we collect information and reviews of real users of different auto transport services—competing to be the best—to help you pick the best out of your discretion.
After choosing a preferred auto transport service, you may request a quote. A quote is a simple online form requesting details about your car. You may also contact a customer support service to help you understand the shipment information and cost better. This will help you to stay ahead of the curve.
Payment sets in afterward, many times, you're not advised to pay upfront before anything is done. Rather pay partially only when your vehicle is ready for shipping, then complete payment later on arrival.
Pre-Shipping and Post-Shipping Activities To Know
These include your activities before shipping your car and after shipping your car.
Many countries may not accept tinted glass cars or white headlights, and others may not accept cars or car models below or above a certain age (3 months, 6 months, 25 years, or thereabout).
Additionally, you must understand what to do or the documents to provide during customs clearances in your destination country. Calling the US State Department or customer support of the car shippers or brokers may help with this information.
Next is to prepare your car for shipping. Get a mechanic or hire one online or through a shipping agent overseas to help you vet your vehicle. Then clean your vehicle of foreign soil to prevent the introduction of foreign organisms to your car's destination. Employing the services of cleaners will get this done in no time. Meanwhile, some car shippers may include this when you request a quote.
Main Destinations Overseas
Where You Can Ship Your Vehicle
At CompareTheCarrier.com, we offer you an easy way to ship your vehicle overseas. The main destinations where we can help you to move a vehicle are Alaska, Hawaii, Guam, and Puerto Rico. Let's look closer at each of these locations.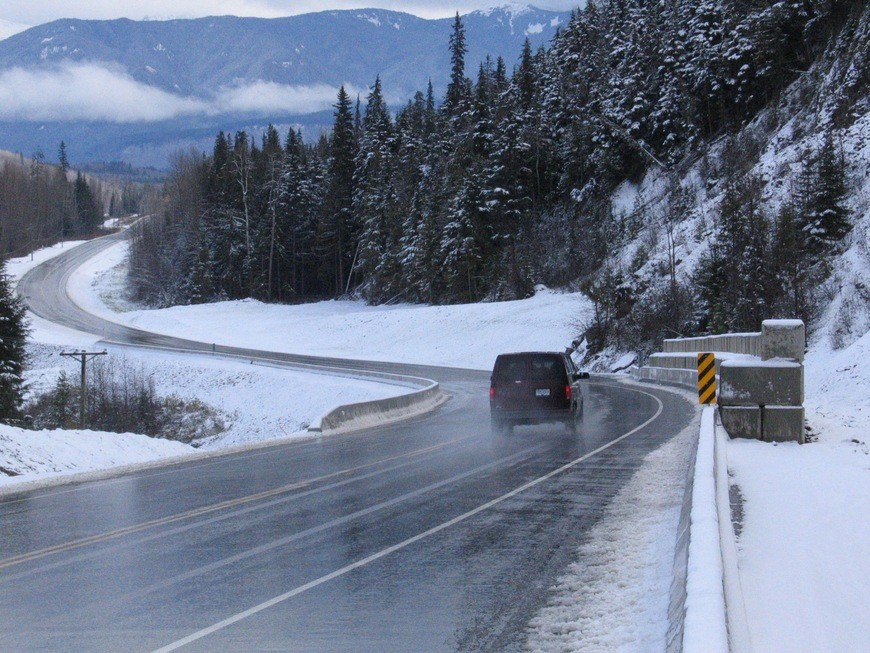 Shipping vehicles to or from Alaska requires you to get an online quote from a broker or car shipper. Afterward, you'll be given feedback from a broker on pickup, shipping, and arrivals. It typically takes 12-14 days to arrive at an Alaskan port.
Payments for the shipping sets in at this point. The cost of shipping depends on the Alaska terminal you use. There are four major ports to ship your vehicle in Alaska: Juneau, Anchorage, Kodiak, and Fairbanks. Each one has a different cost for shipping cars to and from Alaska as they are farther apart.
You should also note that shipping to or from Alaska occurs in transit, and your vehicle stops through the Washington State port before reaching any Alaskan terminal. You will also consider the cost of shipping to or from the Washington State port.
Asides from taxes, insurance, or customs duties, a vehicle's size and weight may influence its cost. Sedans, SUVs, recreational vehicles (RV), and Pickup Trucks vary in size and weight and hence cost. You can request a custom quote form on our site for free to get an idea of their respective costs.
Meanwhile, here is a breakdown of the average overseas transport costs for the different terminals (average means it could be lesser or more):
In this case, payment for the port-to-port auto transport comes in two parts—the partial payment after pickup and payment of the remaining balance after completing the shipment. It is advisable not to pay for car shipping upfront to avoid unnecessary delays.
Your vehicle will be loaded onto an opened or closed container and stacked into a RoRo ship. The shipping company notifies you of a possible pickup on getting to an Alaska terminal. Depending on the company involved, you may have a storage grace of 2-5 days.
When getting a quote from a broker, you may choose a port-to-door (cross country) service for an extra cost, especially if you live farther from any of Alaska's terminals. This will save you further costs such as gas, time, and police checkpoint stress.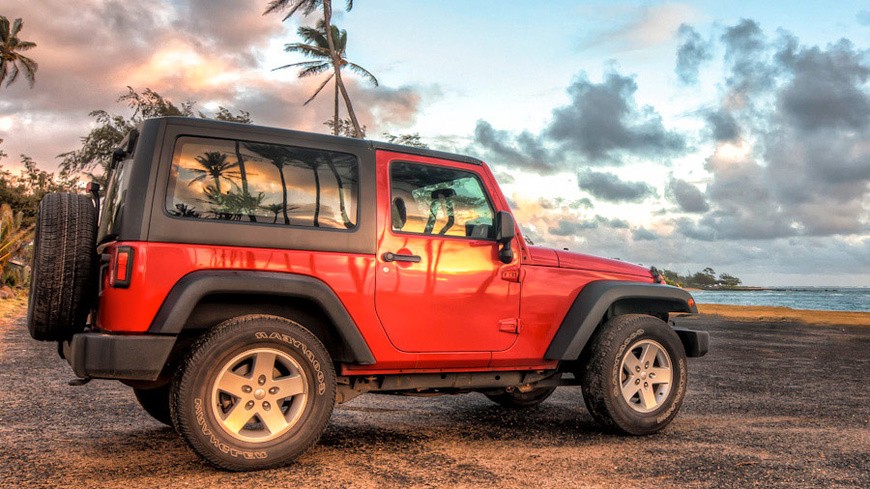 Hawaii's vehicle transport process is quite the same as other ports and terminals—the only thing that changed is the location or destination. In that case, you should know how Hawaii car transport works.
Before shipping overseas from or to Hawaii, you must decide what shipment method to the port will work well for you. As a busy person, driving the car to the port yourself may seem like a burden. In such a situation, hiring a door-to-port shipment service will help sort things out for an extra cost.
Get a broker or car shipper to send an online overseas auto transport quote across, and fill it up with necessary details such as location and destination zip codes, references, and car information. You can find a great broker on CompareTheCarrier.com.
Before sending your vehicle across for shipment, you must confirm its legal status and properly clean it of foreign soils, then send it to a mechanic for proper examination. You should, at this point, remove fragile items or items you can risk losing to stealing or breakage along the way.
Shipping rates vary from terminal to terminal in Hawaii. Keep in mind that only four terminals may accept your vehicle before getting to Hawaii on transit. They include the Los Angeles, Oakland, San Diego, and Seattle terminals.
For Hawaii, there are 6 available terminals to ship your vehicle to or from the region: Hilo, Honolulu, Kahului, Lanai, Molokai, and Nawiliwili. Each terminal has different rates for different vehicles. Sedan or smaller vehicles have average rates of $659 to $1126, while bigger vehicles like pickup trucks, SUVs, and recreational vehicles cost $870 to $1769.
You may request a custom quote on CompareTheCarrier.com to get the specific cost of your vehicle.
The car shipper notifies you of a possible pick-up on arrival in Hawaii. Storage grace depends on the shipment company involved; it typically ranges between 2 to 5 days.
Post-shipment activities may now set in after your car arrives successfully. You may also inform your car shipper of a possible cross-country shipment before arrival, especially if you live farther from Hawaii terminals.
Cross-country shipment rates depend on the vehicle's size and weight, multiplied by the number of miles to their destinations (more detailed cross country auto transport info here):
You may proceed with customs clearance and other post-shipment activities like car registration in Hawaii.
Guam & Puerto Rico Car Shipping
Guam and Puerto Rico are other great overseas vehicle transport destinations or locations. Like every place mentioned in this guide, you can move your vehicle in and out of these regions.
Auto Transport To or From Guam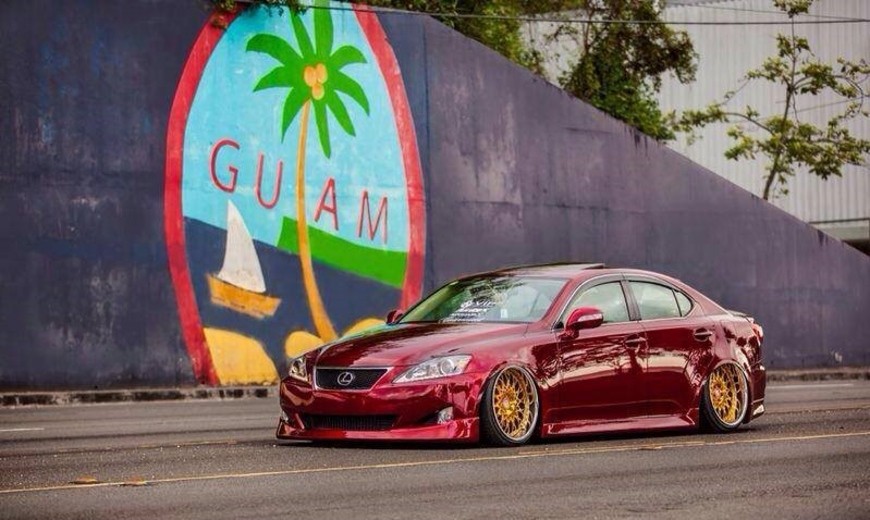 Guam is a US-controlled state based in the western pacific. As an island, you will need a sea shipment to move your vehicle to or from Guam. For this reason, you should hire a broker to handle your needs. We can help with that!
Cross-check the restrictions surrounding moving vehicles to or from Guam after connecting to a broker through us. This is important to prevent time wastage from customs or possible confiscation due to bad intel.
You may also state if you'll need a cross-country shipment service to the port and how you need it—open or closed container? In a flatbed, car hauler, or lowboy trailer? Among other specifications.
Examine your vehicle for possible leakages or spoilage, and remove objects capable of interfering with normal auto transport services like motor alarms, breakable items, or items that may puncture your vehicle during transportation.
You may proceed with payments. Guam rates for port-to-port service range from $2500 to $7000 between Mainland or Long Beach and Saipan ports. Transportation may take 20-40 days.
Meanwhile, auto transport costs may vary depending on extra customs levies and taxes during shipment. Extra services like port-to-door service may attract extra expenses but will save you some time and resources.
On arrival to Guam ports, you will be notified duly for pickup. Proceed to do your customs clearance and register your vehicle after pickup from Guam ports.
Auto Transport To or From Puerto Rico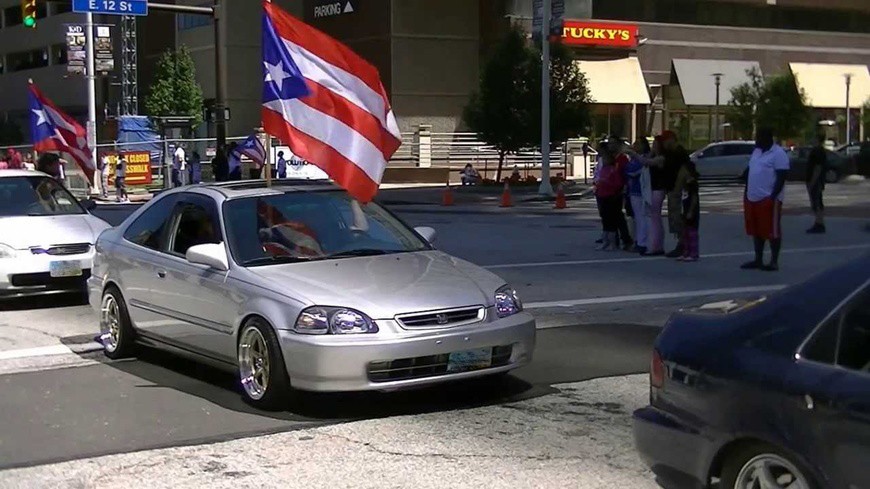 The only restriction for shipping to Puerto Rico is the size and dimension of your vehicle. Vehicles with dimensions greater than 21'8" L x 8'W x 7'H may be unaccepted during overseas shipment or may attract extra costs.
Also, faulty vehicles may not qualify for shipment because it becomes difficult to get off the RoRo ship.
Puerto Rico's major hub is the San Juan port which receives vehicles on transit from Jacksonville in Florida and Pennsauken in New Jersey.
Auto transport rates are between $1,200 to $3,300, and shipment may take 3-14 days to get to the San Juan terminal for Jacksonville or Pennsauken.
Documents You Need
To Move Your Vehicle Overseas
You'll need some documents to move your vehicle overseas, otherwise, the customs or other port regulation agencies may confiscate it. These documents include: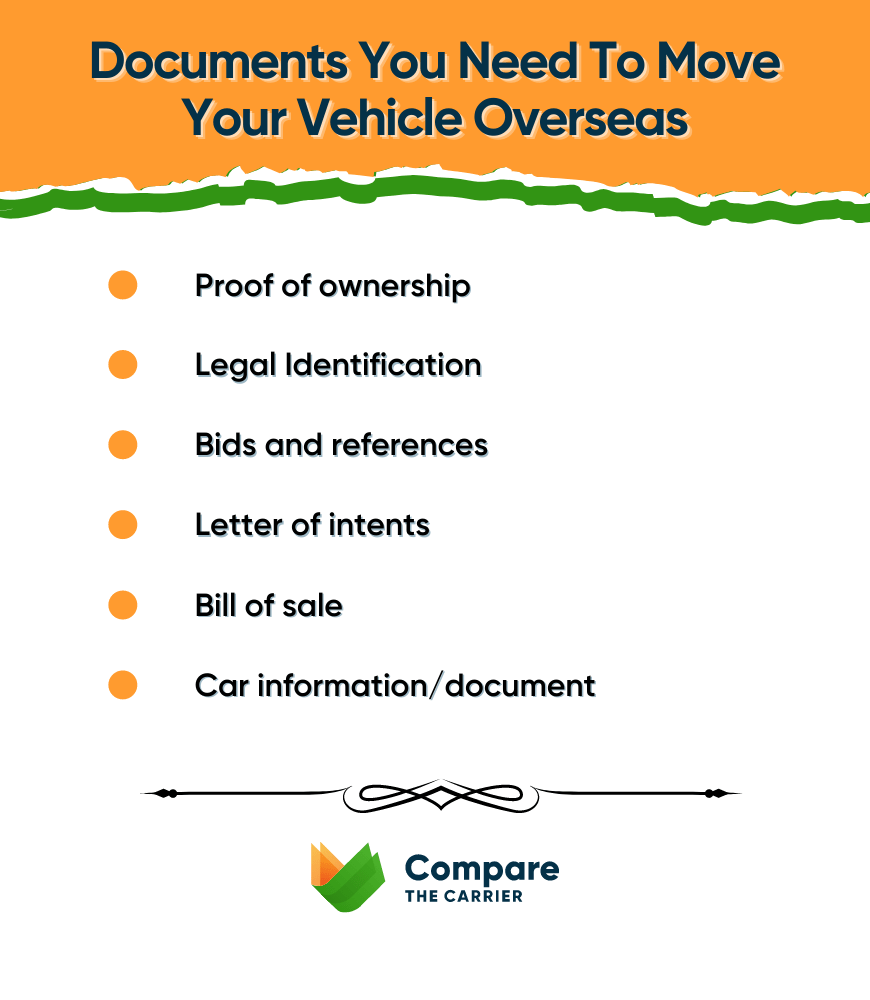 Overseas Auto Transport FAQs
Can I Buy a Car and Ship It Overseas?
Of course. Shipping a car oversea is now easier than ever. CompareTheCarrier.com will provide you with great options of car brokers to choose from and get the best out of car shipping.
How Much Will It Cost To Ship My Car Overseas?
The cost of shipping a car overseas depends on the shipping option you use and the cross-country shipment (if used) method you apply. The popular ones include the single or multiple open or close containers for RoRo shipments and the single or multiple open or close containers for the trailer shipments for cross-country haulage.
Compare car brokers, request an instant quote, and save $100 now!