Drivers and vehicle owners in the United States move their vehicles across state borders for different reasons.
Asides from just relocating with their car, trying to sell it, or bringing it on vacation, military personnel, car buyers, large corporations, and car dealerships move cars all the time.
This type of auto transport within the US is called state-to-state car shipping. Auto transport companies allow you to get your cars shipped to any major American city.
However, how the cars are transported and the rates you pay depend on the state-to-state vehicle towing company you use. This article explains all of these and more.
Ship A Car To Another State In 3 Easy Steps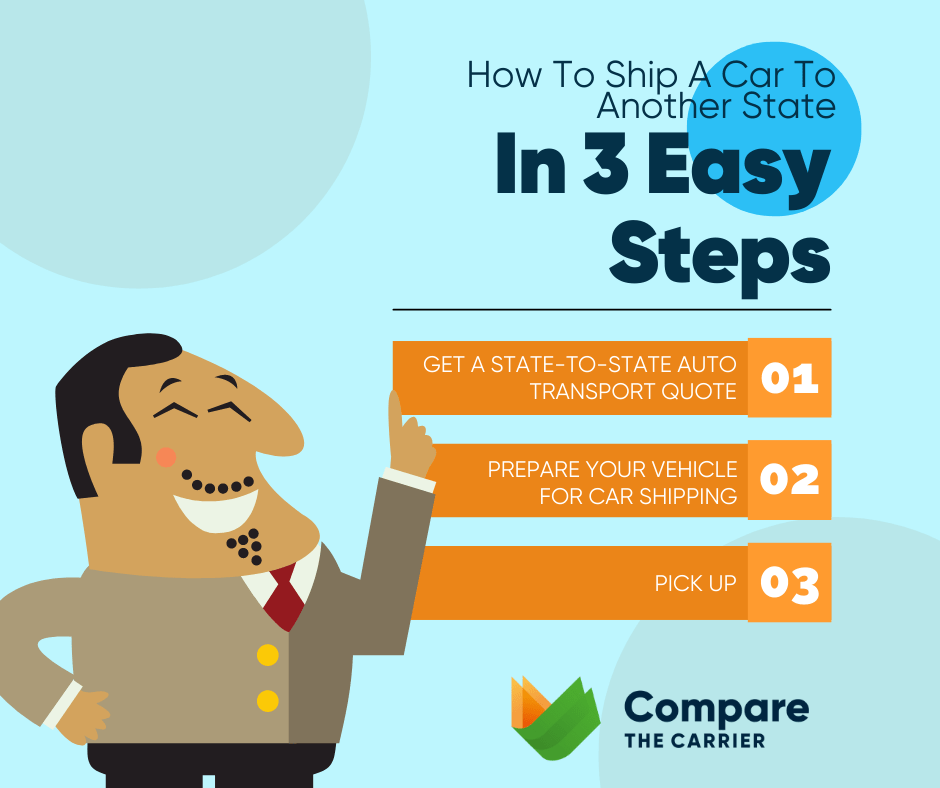 If you're planning to move to a different state or go for a vacation in another state and you need to bring your car with you, state-to-state car shipping companies can help you. Here is how to ship a car to another state in three easy steps:
#1. Get a State-to-State Auto Transport Price
The first step to shipping a car state-to-state is getting a price that meets your budget. The easiest and fastest way to do this is by getting a quote online from hundreds of quality auto transport companies.
To optimize this step and get the best accurate car shipping price quote, you will have to provide all the necessary information required by your auto transport provider. Here are some of the information they will likely request:
#2. Prepare Your Vehicle For State-to-State Car Shipping
The next step involves you preparing your vehicle for shipping. If you've never done this before, don't fret, as it is quite easy.
You need to make sure there are no personal items in the car before shipping them. Also, set your fuel level to a quarter of the total tank capacity and take pictures to document the condition before shipping.
The final step is to pick up your car after it arrives at the designated pick-up center, but some carriers will deliver to your doorstep for a fee. After getting your car, walk around it to confirm that everything is in great shape or the same way you handed it to the carrier.
How State-To-State Car Shipping Works?
State-to-state car shipping is an auto transport service that people use when moving their cars across the country from one state to another. Auto-shipping brokers and auto transport companies typically handle this type of shipping, and the best use reputable carriers.
There are many auto transport companies with an online presence that you can use. In choosing one, you need to go with the company that offers the services you need and the rates you can afford.
Auto-shipping prices differ from shipping company to shipping company, and it also depends on several factors, including time of the year, your vehicle's size, model, make, weight, and more.
Using free platforms like Compare The Carrier makes it easier to find and compare quotes from dozens of top auto transport companies and see which is best for you.
Once you've got some reliable state-to-state auto transport companies to select from, reach out to them, get personalized quotes, and find out if there are any extra costs/discounts.
Another thing you need to figure out is whether you need enclosed or open car shipping. Most car transport companies ask about these options but which is the best for you? Let's find out.
Open & Enclosed State-To-State Auto Transport
There are two general kinds of trailers in auto transport that you can use for shipping cars state-to-state—Open and Enclosed car shipping services. People use either of these two options for specific reasons; here is what they are:
Open State-To-State Auto Transport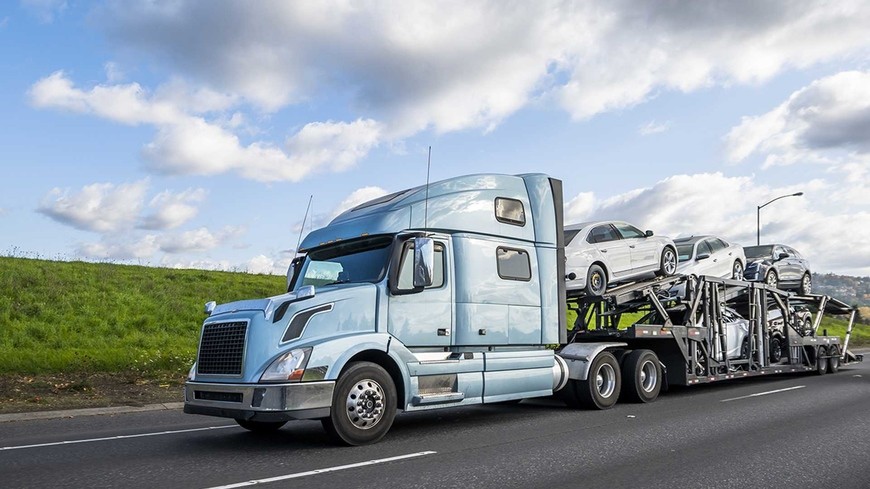 Open car transport trailers are arguably the most widely used car shipping service in auto transport. One notable reason people, especially car dealerships, prefer this type of state-to-state auto transport is because it is relatively cheaper because it carries more cars.
In open transport, the trailers have a couple of levels, and the company loads several cars on them to be transported at once. A downside of using an open trailer is that your cargo/vehicle is exposed to the surrounding environment and the elements.
This is because the trailers don't have sides to them. However, this doesn't make it less safe or secure for transporting vehicles across states.
Enclosed State-To-State Auto Transport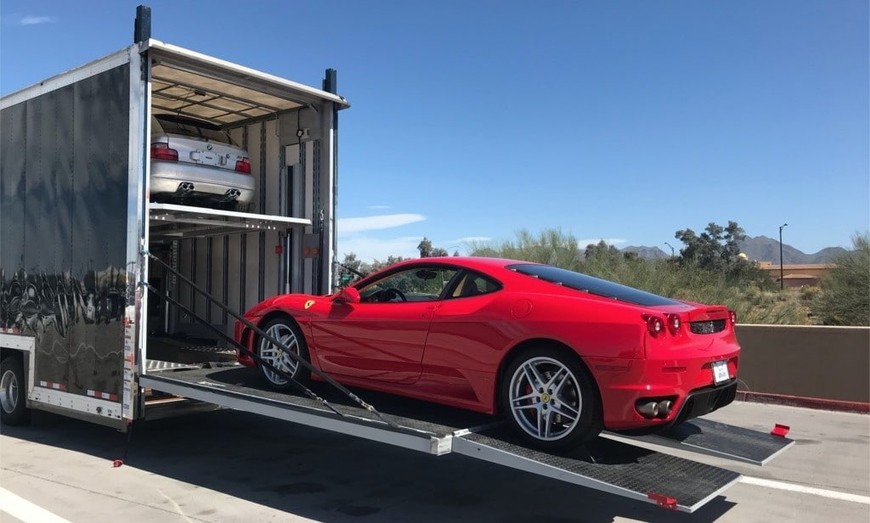 Enclosed state-to-state transport differs from open because the cars are moved in an enclosed trailer, safe from the weather and surrounding environment. Enclosed is a popular choice among owners of classic, rare, expensive, custom, luxury, and antique vehicles.
With this type of car transport service, your car is out of the public eye throughout the trip and will arrive at the designated destination looking the same way before transporting it. Despite the obvious benefits, enclosed car services still have some downsides.
One downside of using an enclosed car service is that it is relatively more expensive than open state-to-state auto transport. Moreover, drivers of these trailers may have a hard time making routine inspections of your priced possession when in transit.
State-To-State Car Transport Rates
Are you thinking of moving across states and spending summer in a warmer and less rainy climate? Or you've just bought a classic collectible at an auction and need it in your garage? Hiring an auto transport company is the way to save money and energy when moving vehicles across the country.
However, you need to know what it takes to pull it off, and state-to-state transport rates are one of the key factors. These rates not only vary from company to company but also depend on several important variables/factors such as:

On average, state-to-state car shipping costs are $0.70 per mile for a distance of 1000 to 1500 miles. However, the size of your car may be the biggest factor that affects the price you end up paying.
This is because bigger vehicles use up more space on transporters, which means less room for other cars that need shipping. Besides, larger cars weigh more and limit the total capacity allowed by carriers.
According to the U.S. Department of Transportation, commercial car carriers get a max freight weight limit of 8,000 pounds, allowing them to haul an average amount of 5 to 9 cars.
According to Forbes Advisor, shipping both a midsize sedan (2020 Honda Civic) and a large SUV (2020 GMC Yukon) from the same distance of LA to New York on open carriers will cost an average of $1,289 and $1,669, respectively.
Insurance and Bill of Lading
When Shipping To Another State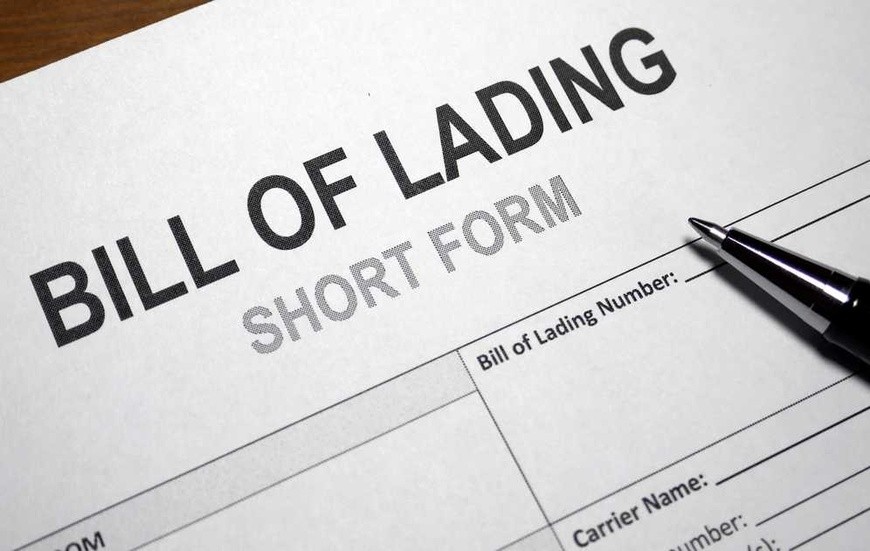 When shipping vehicles across the country, some documents may pop up in discussions, and two of them are insurance and bill of lading. Generally, the carrier is responsible for shipment losses, delays, and damages in auto transport.
Insurance, however, brings security whether someone else or you are responsible for your car, and it gives you coverage regardless of what happens. A comprehensive auto insurance coverage will protect your vehicle against damages from vandalism, collisions, theft, and fires.
Nowadays, almost every state in America has issued mandatory car insurance liability laws since not everyone can afford to pay for damages in an accident. Auto transport shippers must have cargo and liability insurance, but the terms and amount of coverage depend on the auto company.
So any damage incurred during transit is covered. It is important to always go with companies that have coverage and never leave personal possessions inside your car because the insurance won't cover it.
Bill of lading is another important factor when shipping cars state-to-state, and it is a shipping record of the good received, which is your vehicle. The document signals the agreement between the transportation company and the shipper for the transportation of their car.
An auto transport company typically issues these records as a legal documents to shippers. Here are some things a bill of lading will indicate:
Whatever the distance between the location of your car to the state you want it shipped to, you need an experienced and reputable auto transport company. Such a company will guarantee safe and quick shipment across the country to any location. But to get access to these companies, you need a platform that compares some of the best rates and services available to tailor your choice to your needs. You can compare carriers and get quotes on our website or read more about state-to-state car towing.
How long does it take to transport a car from state to state?
On average, it will take between 1 to 2 days to ship over a distance of up to 200 miles, while distances of over 2000 miles could take a week or 9 days. Of course, this time is dependent on weather, traffic, road construction, detours, etc.
What are the benefits of enclosed auto transport?
There are many benefits to using enclosed auto transport companies, especially if you're shipping an expensive and rare vehicle. Enclosed shipping is great for multiple-vehicle shipping, the peace of mind and security it gives, low ground clearance, and increased insurance coverage.
How do I prepare my car for state-to-state car shipping?
Before a state-to-state auto transport, there are some things you need to keep in order or check. To prepare your car for shipping, check for leaks around and under the car, wash the exterior, avoid extra weight from more fuel or personal effects, and conduct a visual inspection.
How do I get quotes for state-to-state car shipping services?
Compare The Carrier is a website that allows you to compare thousands of quotes from state-to-state auto transport services. The platform is free to use and can save you hundreds of dollars while helping you get the best company for your shipping needs.