Welcome to our comprehensive guide on classic and exotic car shipping in 2023. If you are an owner or a collector of a luxury, classic, or exotic vehicle, you know how valuable and precious these vehicles are. Whether you are moving across the country or just state to state, shipping your prized possession can be a daunting task. That's why we have put together this full guide to help you understand the ins and outs of exotic car shipping.
We will cover everything from the types of transport options available to you, the cost of luxury car shipping, and the important factors to consider when choosing a shipping company. So, whether you are shipping a vintage Ferrari or a modern Lamborghini, this guide will provide you with all the information you need to ensure your vehicle arrives safely and securely at its destination. Let's dive in and explore the world of luxury auto transport together.
What Type Of Trailer Should You Choose?
The most common options for shipping any type of vehicle are open or enclosed car haulers. Open carriers are more affordable and are usually used to ship regular vehicles. But when it comes to classic car transport (for example 1966 Jaguar E-Type) or exotic car transport (for example, 2019 Porsche 918 Spyder) cost of transportation may not be the number one priority.  
Classic, exotic or just brand new cars can be delicate and mostly are of a higher value, we highly recommend our customers to choose white-glove enclosed service, which provides the most secure method for transport.
Our company can help you to find the best transportation company specialized in classic or exotic vehicle shipping service, compare their quotes and get excellent service for a reasonable price.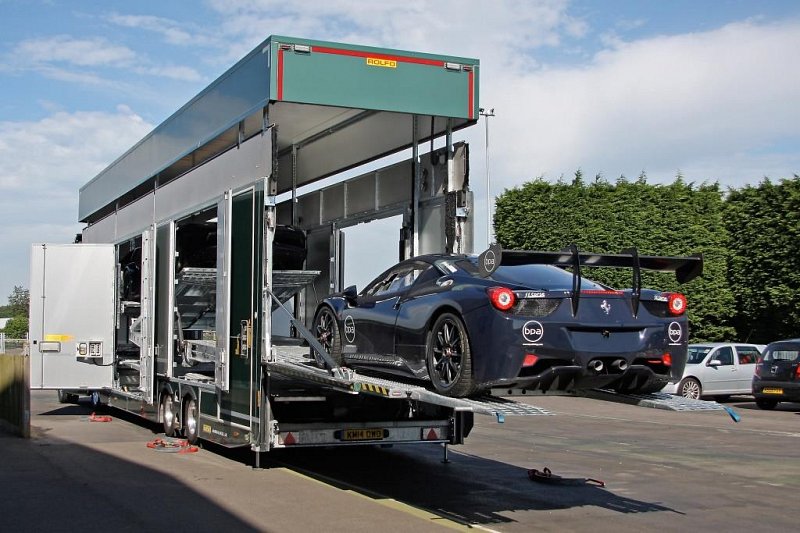 If you are shipping a car to a show or you just want to get it on the other end as soon as possible, companies can also offer you expedited delivery. It is the fastest method of shipping so far, which is often provided using a single or 2-car carrier. With expedited shipping, transportation from coast to coast takes 4-6 days and from Midwest or Southeast to the coastal region (or vice versa) only 2-3 days.
So when it comes to shipping a classic or an exotic vehicle, most customers opt for enclosed auto transport as it guarantees the smoothest transportation process. It offers the best protection from weather conditions that may be rather harsh sometimes, from road dust and small pebbles, and gives you the confidence that your vehicle is properly secured during all auto moving processes.
To help you compare and choose the company that might match you the best we created top enclosed car shipping services based on customers' reviews, experience, and service quality.
How Much Does Classic & Exotic Car Shipping Cost?
Classic and exotic car shipping costs about 60% higher than regular vehicle shipping because such cars are usually transported with enclosed trailers. It helps to protect vehicles during transit from weather conditions and road dirt.
The cost of luxury auto transport is based on a few basic things like the size and condition of the vehicle, route, availability of drivers, and season. But of course, the main thing that will affect the cost is mileage. Costs for classic car shipping range from roughly $1 to $3 per mile.
You can find some prices that indicate average shipping rates for enclosed transportation and estimated time in transit in the table below (pay attention that shipping cost can vary a lot, it's only examples to help you understand the average price). To get exact classic & exotic car shipping rates you can request a quote here.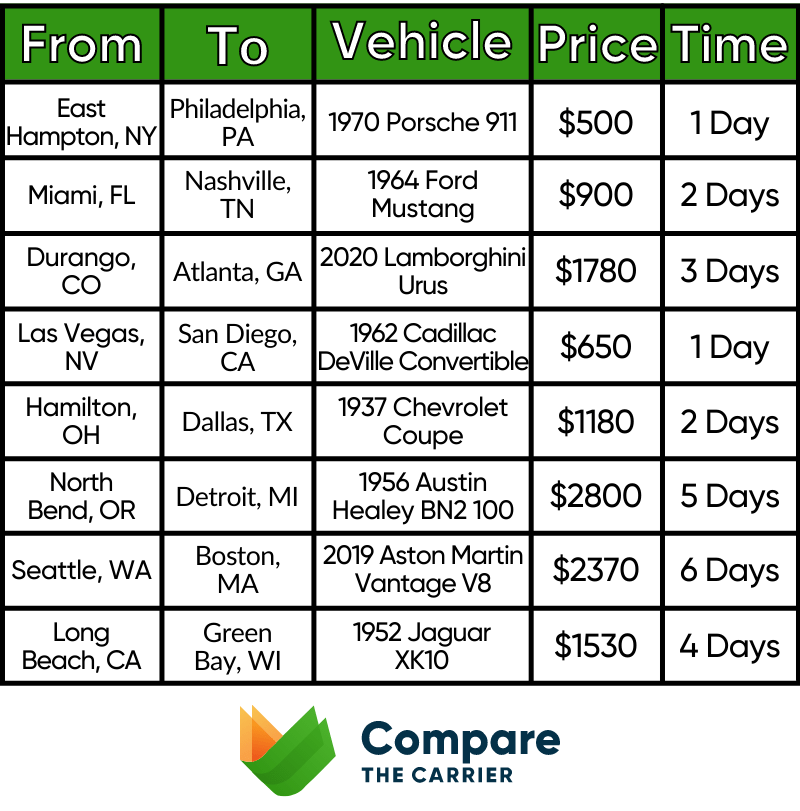 Preparing Your Antique & Luxury Car for Transport
Before the driver arrives and will load your vehicle on a trailer, there are some things you need to make. The list that we prepared for you covers the most important requirements from classic car transporters and is considered to be the best way for preparing a car for both enclosed and open trailer transportation: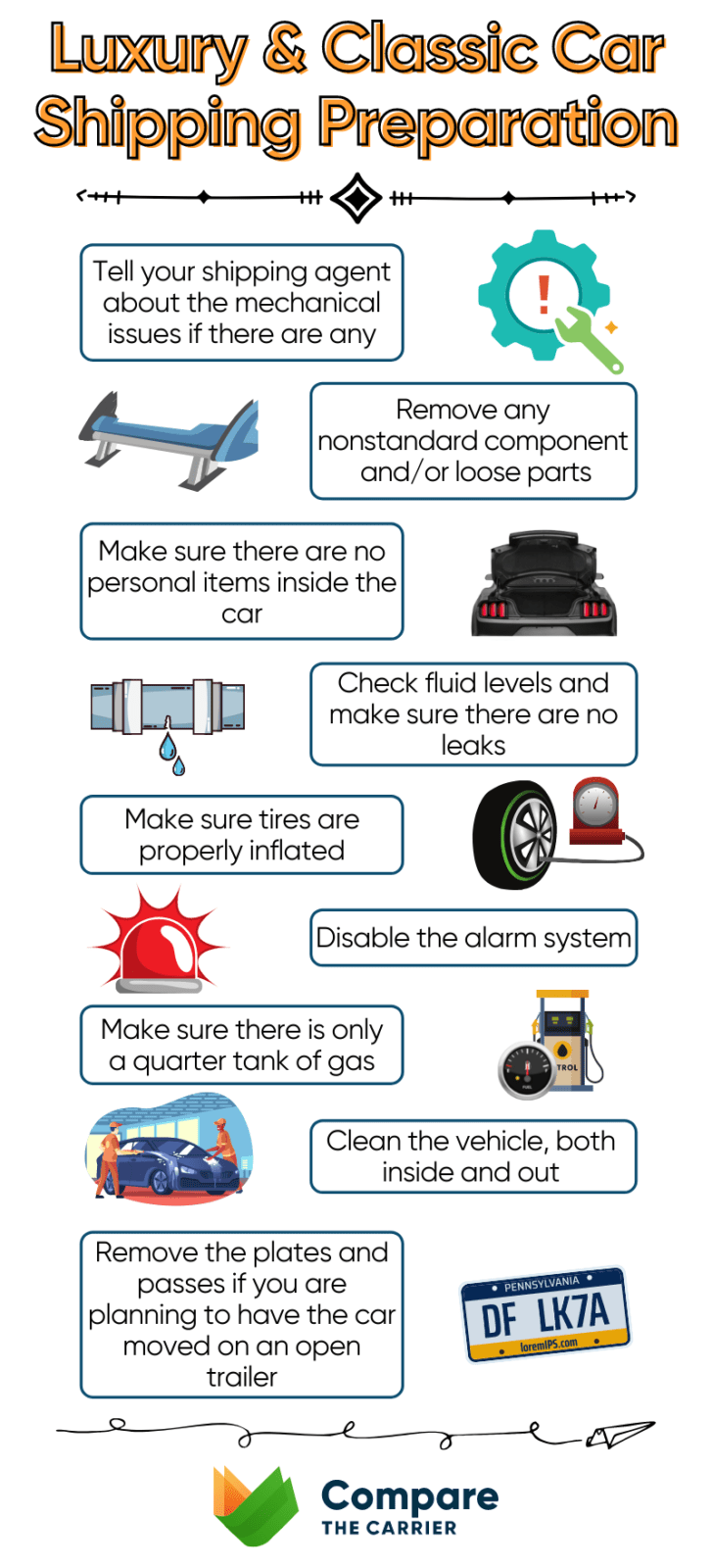 – Tell your shipping agent about the mechanical issues if there are any;
– Remove any nonstandard components and/or loose parts such as luggage racks or spoilers;
– Make sure there are no personal items inside the car as they may damage the interior and they are not insured while transportation;
– Check fluid levels and make sure there are no leaks;
– Make sure tires are properly inflated;
– Disable the alarm system;
– Make sure there is only a quarter tank of gas;
– Clean the vehicle, both inside and out;
– Remove the plates and passes if you are planning to have the car moved on an open trailer since road cameras may take a picture of your vehicle by mistake and you will get a ticket. It's easy to dispute it by showing the shipping contract and Bill of Lading, but it will take some time.
What Do Our Classic Car Shipping Customers Say?
The move was very smooth, though I had to wait a bit for a driver who would go from Vermont to Oregon. But it was totally worth it since the car was delivered in perfect condition and the driver loaded it on the top as we negotiated.
I'm moving almost every year and this time I chose Compare the Carrier. It was definitely the right choice. The manager kept me updated all the time making the whole process less stressful.  And it took only 4 days till I received my Lamborghini in California. I will choose them next time for sure.
I bought a 60' Ford Mustang for my father and wanted to make sure it will be delivered safely. I decided on enclosed since it was a birthday present and I needed everything to be perfect. And Compare the Carrier actually did a great job. The car arrived just on time and in perfect condition.
Compare the Carrier staff is great! They kept me updated all the time about moving my 2013 Dodge Viper and even though there were some changes as the driver was running late, my baby was delivered to the show in advance. I will definitely use them to find a driver for the next show.
Can you ship my car overseas / internationally?
Besides shipping vehicles within the mainland, we can also help you with shipping the car to overseas territories (Alaska, Hawaii, Guam) and internationally. We will help you find the company that will navigate the requirements and paperwork involved in the process and will find the best price and the best options within your time frame. But it is important to understand that shipping overseas takes more time (at least 2-3 weeks) and it is not cheap.
Is it possible to transport a car that doesn't run?
Sure, any type of vehicle can be shipped whether it is operable or not. But usually, you need to provide the details of the vehicle's condition before the driver comes to the pick-up location since a winch or forklift is needed to transport inoperable cars.
Can I track my vehicle during shipping?
Unfortunately, only a few companies offer online tracking. But you can always contact our customer support care and they will check with the driver where exactly he is. You will also have the driver's phone number and you can contact him directly as well.
Do you offer race car transportation?
Yes, we can provide you with quotes from companies that offer race car transportation. Almost all enclosed trailers are equipped with lift gates so we can transport the vehicle even with extremely low ground clearance.
Can I transport my car and bike in one trailer?
If you want to move your bike and car in one enclosed trailer, this service can be done for you for sure. It may take some time to schedule the special trailer, but it will definitely be easier to negotiate all the details only once for you.
In case you prefer to move both a bike and a car on an open trailer, there may be some difficulties as open trailers are usually equipped only for either car or bike transport. In this case, we advise you to opt for enclosed transport or ship the vehicles apart. Therefore you will be sure both are delivered safely.
Can you move my vehicle on the top load if I choose open transport?
Yes, most companies can negotiate that with the driver and he will load your vehicle on the top of the trailer.