Welcome to our guide on the different methods of cross country car shipping. If you need to transport a car across the country, there are a few ways to do it. We'll cover the most popular methods, including door-to-door, terminal-to-terminal, standby, and rail transportation.
We'll explain the differences, costs, and what to consider when picking the right method. By the end of this guide, you'll know the best way to transport your vehicle with ease and confidence. Whether you're moving or buying a car from out of state, read on to learn more about cross-country car shipping.
Speaking of transporting vehicles across the country, four main methods: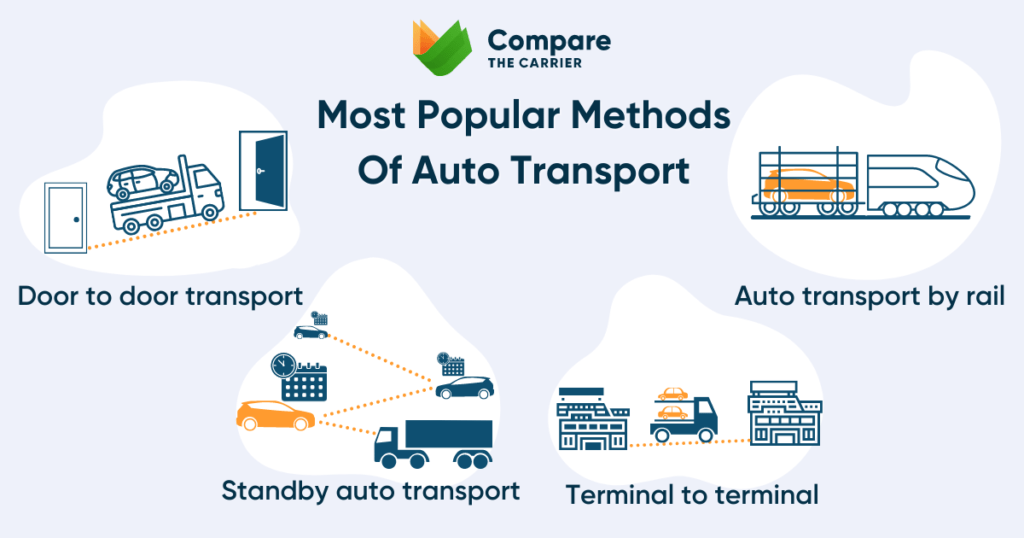 Door-to-door car transport
It's the most popular method of transportation for carriers and customers. It allows you to save time by having the driver come right to the location of your choice and take the vehicle to the final destination. Since this method increases the driver's road time, it usually costs a bit more compared to other shipping methods.
Additionally, you can choose from different types of trucks that are suitable for shipping your vehicle.
Here are a couple of rate examples for door-to-door vehicle transport:
Los Angeles, CA to New York, NY – $1,500 to $2,000
Miami, FL to Seattle, WA – $1,800 to $2,400
Terminal-to-terminal vehicle transport
Terminal-to-terminal auto transport is not nearly as popular as door-to-door transport but it is still a valued part of the industry today. When you choose this method you will have to make your arrangements to send the car to the pick-up area and take the vehicle from the destination location.
You may think that terminal-to-terminal car shipping is cheaper, but in most cases, it's actually vice versa since the company has to pay for the terminal, for the security of vehicles, and so on.
Here are a couple of rate examples for terminal-to-terminal vehicle transport:
San Francisco, CA to Chicago, IL – $900 to $1,200
Dallas, TX to Miami, FL – $700 to $1,000
Standby auto transport, also known as flexible auto transport, is a service that offers lower rates in exchange for a longer delivery window. Since the carrier can group your vehicle with other vehicles heading in the same direction, standby transport can be a cost-effective option for those who are flexible with their delivery dates.
Here are a couple of rate examples for standby auto transport:
Los Angeles, CA to Denver, CO – $600 to $800
Atlanta, GA to Boston, MA – $800 to $1,000
Auto transport by rail is a shipping method that involves transporting vehicles on trains. This option can be more affordable than other methods, especially for long-distance moves, and can also be more environmentally friendly. However, it is important to note that auto transport by rail is only available on select routes, as not all destinations have direct rail service. Additionally, not all auto transport companies offer this service, so it may be necessary to find a specialized provider for this shipping method.
While auto transport by rail has become less common over time due to the increased popularity of other shipping methods, it is still an option for those looking for a cost-effective and eco-friendly solution. One of the benefits of rail transport is that it can handle a large volume of vehicles at once, which can reduce costs and lower the environmental impact of each shipment. However, it is important to keep in mind that this method may not be as fast or flexible as other options, and the delivery window can be longer and less predictable.
At this time, we don't work with any rail transportation companies. However, if you are interested in using auto transport by rail, it is important to do your research and find a reputable provider that can offer this service on your desired route. Be sure to compare rates and services, and ask about any restrictions or requirements for this method of shipping.
Here are a couple of rate examples for auto transport by rail:
Los Angeles, CA to Chicago, IL – $500 to $700
Miami, FL to New York, NY – $800 to $1,000
Read more in full cross-country car shipping guide.