Transporting your car can be a mess when you need it urgently and safely. Thus, doing that on your own is not always possible. You can rely on the services of South and North Carolina car shipping companies in that case, but how to choose the one that will be the best? We'll talk about it!
Shipping A Vehicle From South And North Carolina At A Glance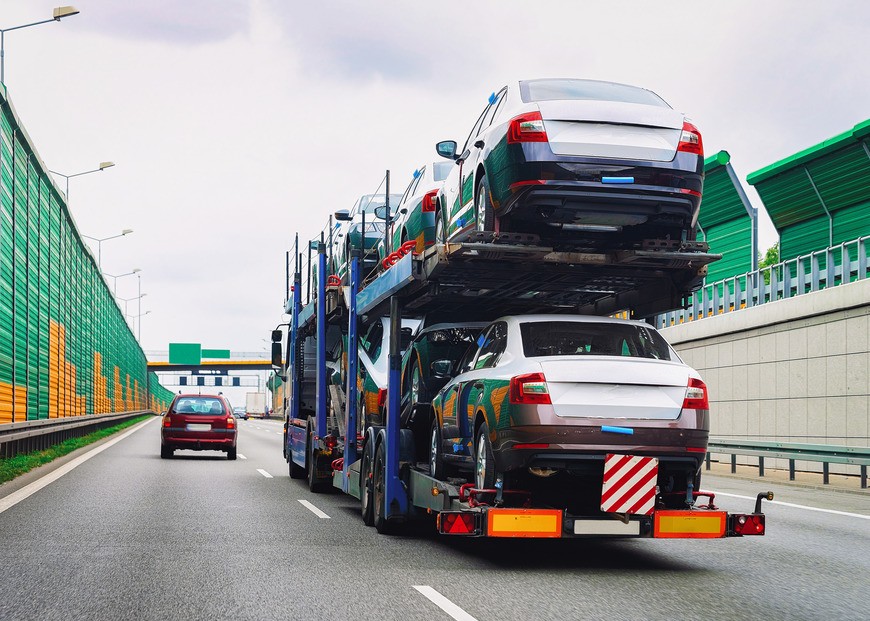 Being the center of the Southeastern US, North and South Carolina offer great opportunities for work and living. But still, some residents of these states need to ship their cars to other destinations. Thus, they need to get relevant information about car shipping service providers working in NC and SC. The good news is there are plenty of them, so you have a wide choice. The bad news, as well, is that you need to compare several factors to make the right choice and not overpay for South and North Carolina car shipping.
How Does North And South Carolina Auto Transport Work?
When you need to ship a car to another city, or even state, there are some steps that you should do to boost the process. We offer you a step-by-step guide for South and North Carolina car shipping to help you plan your routines in advance.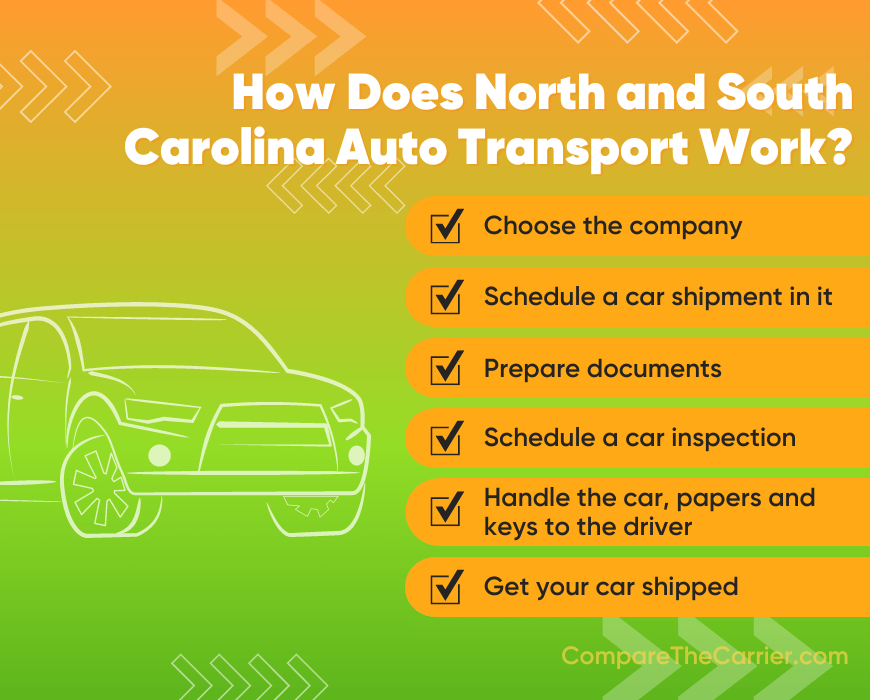 That's all!
Costs Of Car Transportation From North And South Carolina
You should understand that prices may fluctuate considerably as they are formed by considering several important features. They are as follows: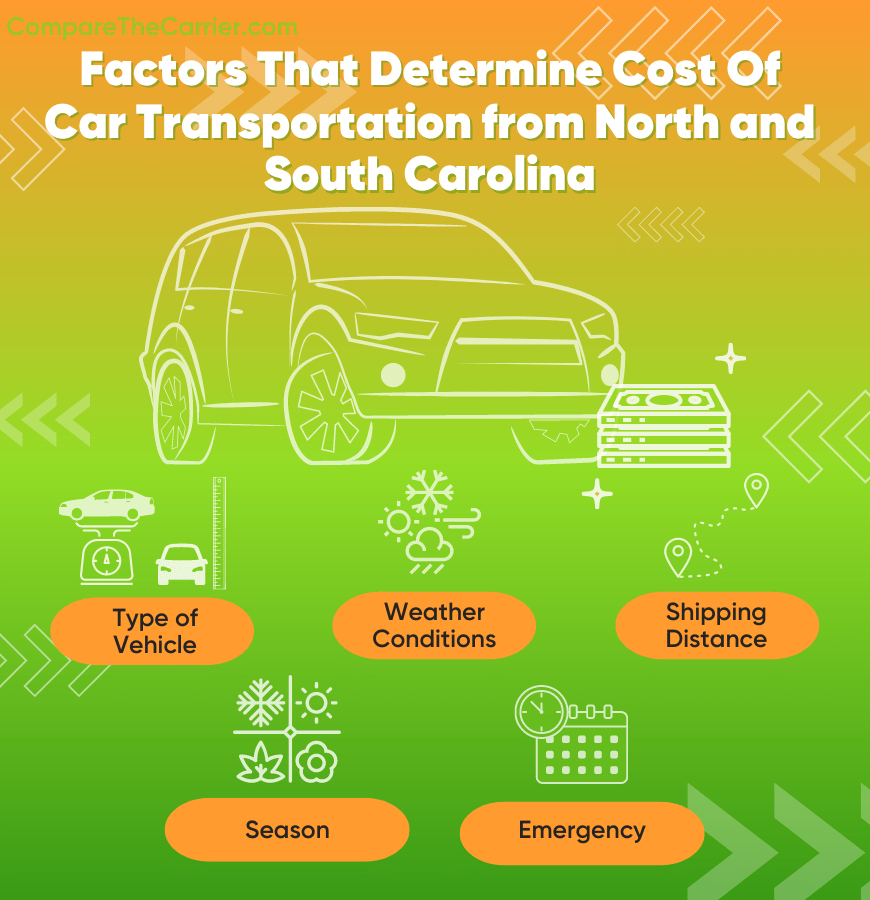 The distance is the most crucial factor
It is one thing when you move your car from one address in SC to another, and quite different will be the mileage of the cross-country shipping i.e. from Charleston, SC to Washington, DC. The price is calculated by multiplying an average rate per mile by the distance.
The type of vehicle
The type of vehicle and thus, the type of truck that will ship it. For oversized or exclusive vintage cars, rates may be higher. Do not forget that weight is also important to consider. The higher the weight, the higher will be the cost.
Season
In peak seasons (holidays and summer months), car haulers always increase rates.
Weather conditions
Although South and North Carolina are famous for their mild climate, if the weather is expected to be bad, carriers will have to ensure additional protection for your car, and that makes the price also higher.
Emergency
If you book auto transport in South Carolina with no rush using a free scheduled lot, that will not impact the price while if you need your car to be delivered ASAP, there can be an extra fee for the emergency.
So, you can see that the price is not the ultimate even if you compare the offer of one car hauler to ship your car from point A to point B. Thus, it is better to indicate as many features as possible when you apply for a quote to get an estimated cost.
Top 5 South And North Carolina Auto Transport Companies
Here is the list of chosen 5 SC and NC car shipping providers that are worth your attention.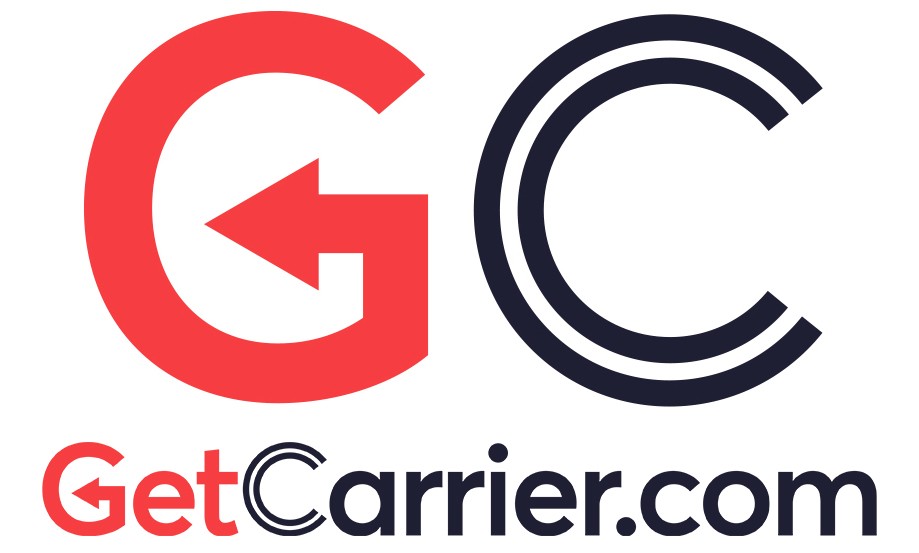 That company has an impeccable reputation and large in-house experience for shipping almost every type of vehicle including non-standard or customized ones. Besides, you can easily get quotes from that hauler right on the website and book services online.

That carrier offers its services throughout the US including South and North Carolina auto transport. It has high rates on review aggregators and the customers prove they had a brilliant experience of car shipping with MoverJet Logistics. Besides, the hauler offers all kinds of transportation from local moves within the state to interstate transportation.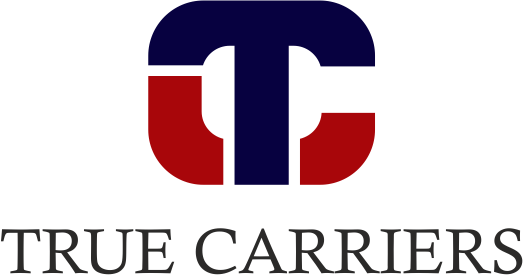 That service provider also offers great expertise in car shipping throughout the US. There are only a few reports about the negative experience of car shipping by TrueCarrier LLC.

That company is headquartered in Coral Springs, FL and its scope of services is wide enough to please all car owners of East Cost. It is considered to be one of the most reputable car haulers in the South States.

#5. Mercury Auto Transport
One more company on our list is Mercury Auto Transport. For years of work, the carrier had completed thousands of car shipping orders and provides fair prices along with full legal services.
What Documents Do You Need to Arrange Car Shipping from North and South Carolina
It is crucial to get all the papers OK before the start of your car's North Carolina auto transport journey. Which papers to prepare?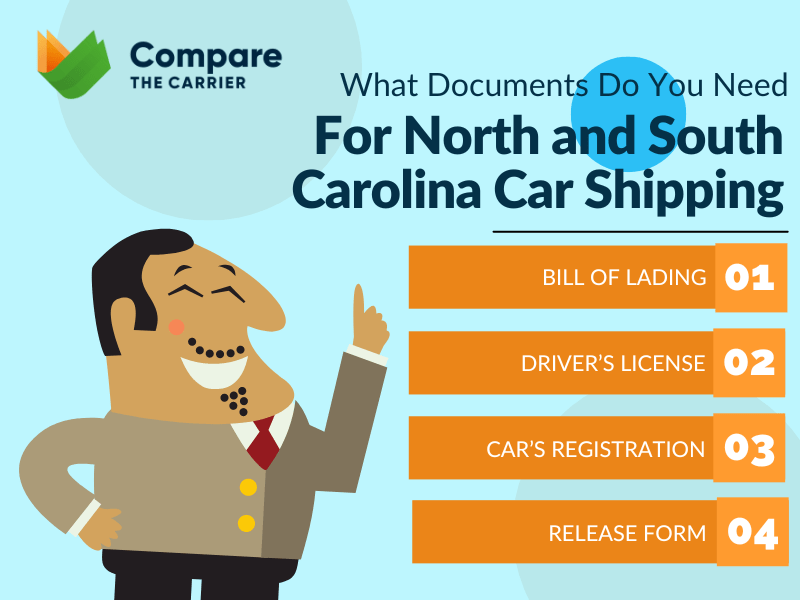 Getting a reliable ally for your struggle to ship a vehicle from NC and SC is a good idea, isn't it? Let's make it as easy as a piece of cake! Just explore the opportunities that Compare the Carrier offers you. On our website, you can get lots of info as well as relevant rates, ratings of shippers in your state, and useful tips on how to make South Carolina car shipping easy, safe, and cost-effective at once.
There are lots of pitfalls you should avoid when deciding to ship your car from South or North Carolina across the state. Yet you can easily cope with the task if applying for services of auto transport in South Carolina from one of the companies we've listed above. Besides, it will save you time if you compare several haulers in advance using the Compare the Carrier services. In our article, you get a full guide on how to prepare for car transportation and what steps you should make for it. Just start the process, and we hope that our information will help you with it.
Will my carrier provide on-road insurance for my vehicle?
That depends on the company you apply for car shipping services.
What type of truck should I choose to ship a car from North Carolina to Colorado?
Car shipping companies usually evaluate the type of vehicle they are going to ship, its price, and its condition. These features impact the choice of a truck for carrying it. For more expensive or exclusive cars, an enclosed truck will suit the most while a non-standard vehicle or a broken car can be shipped on a flatbed.
How much does it cost to ship a car from SC to Texas?
Each car shipping company provides its own rates, yet on average, it will cost $750.