To navigate this California car shipping guide you can use the list below:

Why Do People Move To California?
Two of the grandest and most beloved industries in the world are located in California: Hollywood is a global cinema center and Silicon Valley is a global center for high technology and innovation. Both of them have great offers for talented and hard-working people. All in all, there are more than 50 of 500 Fortune companies located in California (https://fortune.com/fortune500/).
Besides great job offers, the state has also great educational institutions: Cal Tech, Stanford, USC, the UC Berkeley, and others. And unlike other states, California also has the largest, cheapest, and arguably the best community college system in the US.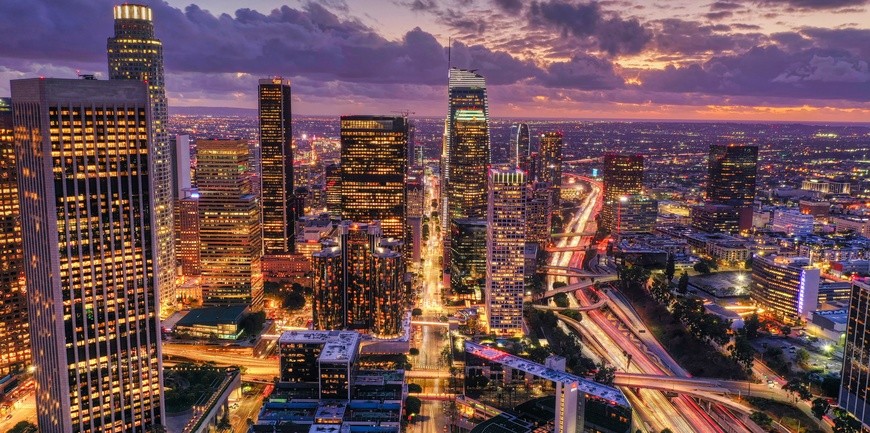 California is also very popular as a tourist destination as there are lots of places to visit. It is considered to be the best hiking and camping state in the country as some of the most diverse environments (desert, forest, grassland, coastal, mountain, valley, volcanic, tundra) in the world The state has 9 National Parks (including Yosemite – one of the grandest in the world), 3 National Recreation Areas, 15 National Monuments, and of course the tallest, largest, and oldest trees in the world (Redwoods, Sequoias, and Great Bristlecone Pines, respectively). It's amazing how many breathtaking places are located in the Golden State.
Source: the crazy tourist.
Most Popular California Car Shipping Routes
And Average Shipping Rates
Even though the sightseeing places are located all over California, there are only 2 areas that are popular among carriers: Los Angeles metropolitan area and San Jose metropolitan area. The most popular routes are Massachusetts – New York – California, Florida – Texas – California, Ohio – Illinois – California, and Colorado – Nevada – California. The price one these routes usually varies between $0,5-0,8 per mile for a regular sedan.
If you going to move your vehicle across the country we recommend you check our cross country car shipping guide. There is a lot of info on California shipping rates anв useful auto transport advice.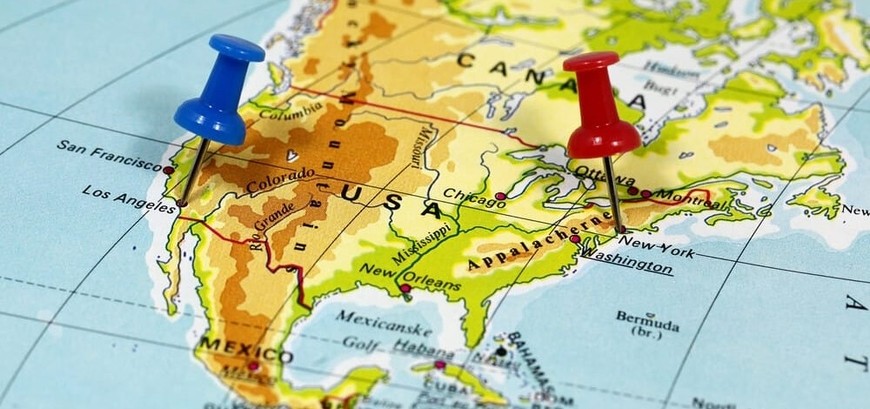 If your vehicle needs to be shipped internationally or overseas (to Alaska or Hawaii) and it needs to be delivered to the port location, you will experience no issues when looking for a driver. Californian port locations are in Los Angeles, Tacoma, and San Jose areas and these are actually the most popular Californian destinations. The only thing that you need to pay attention to is that the driver may need special documents to drop off your vehicle at the port and you need to provide them either via email or at the pick-up location.
As for other Californian cities, such as San Diego, San Francisco, Sacramento, Fresno, and Bakersfield, they are less popular among drivers so shipping a vehicle there may cost an extra $200-300. But in case you do not want to spend that much, you can negotiate with the driver and meet him on the highway or pick up the vehicle at his truck stop as most of the carriers who are shipping vehicles to California are based here.
Best California Auto Transport Companies
The best California shipping companies we collaborate with are A1 Express, ABC Towing and Transportation, Fast Transportation, 5 Star Auto Trans Inc, and CA Enclosed Inc.
If you are not sure that you want to move with these companies we prepared two tops of best car shipping companies. Top 25 best open auto transport companies if you are going to move some usual car and not willing to pay more and top 25 enclosed car shipping for moving expensive cars in a fully covered trailer.

A1 Express is a small privately-owned small company with a driver and dispatcher, who schedules a route. They have been in the transportation business since 2010 and are located in Bakersfield. The driver operates a 3 car hauler and covers the least popular route: Los Angeles – Bakersfield. He is the only carrier who transports vehicles on this route and is very professional.
ABC Towing and Transportation
ABC Towing and Transportation was founded in 2017 and is managed by one person only, who is the owner, the driver, and the dispatcher at the same time. He owns a flatbed and transports almost any kind of vehicle including vans, heavy equipment like bulldozers, road rollers, and also pickup trucks with different utility beds (they are mostly too high for usual car haulers as a height restriction for the usual trailer is 8'6'').
Fast Transportation is also owned and operated by one person only. He established the company in 2018 and owns a 3 car hauler with a winch recently he also got the fifth-wheel hitch. So now he specializes both in transporting inoperable vehicles and in hauling travel trailers or boat trailers.
5 Star Auto Trans Inc is another small privately owned company with one dispatcher and a driver. The driver started this business in 2012 and a bit later hired a person to help him out with scheduling the route. 5 Star Auto Trans he owns a 5 car hauler and prefers to move vehicles for dealerships anywhere within California. Also if there is a free spot available the driver can pick up a vehicle from a private residence as well.
CA Enclosed Inc is also a family-owned company located in Riverside, CA but unlike other companies on the list, it specializes in enclosed shipping services. The family owns an enclosed trailer with a lift gate and transports exotic, brand new, or old vehicles for car shows, dealerships, and private owners.
California Car Moving Preparations & Moving Tips
Whatever company you choose to move your car with, you need to remember some useful tips on how to get the vehicle ready for moving and make sure everything goes right.
First of all, make sure to update the driver on any modifications the vehicle has, that make the size or weight of your vehicle different, especially if it has a low clearance or different heights. Also, make sure the battery is full and there is only 1/3 of gas in the tank, so it won't add extra pounds to the trailer weight. Also don't forget to remove your personal items, all tags, and plates.
Please pay attention that you also need to sign the Bill of Lading at the pick-up (after the driver inspects your vehicle for any pre-existing damages) and delivery (after you inspect the vehicle for any new damages). If any of the documents are not signed by both sides, the insurance company will not cover any damages as BOL is the only document confirming the car was damaged during the transportation.
But even if the vehicle was damaged during transportation, you do not need to worry, but fill in the paperwork, make 1-2 estimates in the local workshop and call the insurance company to submit a claim. Within 1-2 weeks you will get a check.
Compare the carrier team is sure your shipping experience will be no headache and you will advise the shipping company to your family, friends, and colleagues.