In this article, we will cover topics that will help you with the transportation of commercial tracks.
What Is Commercial Trucks Hauling?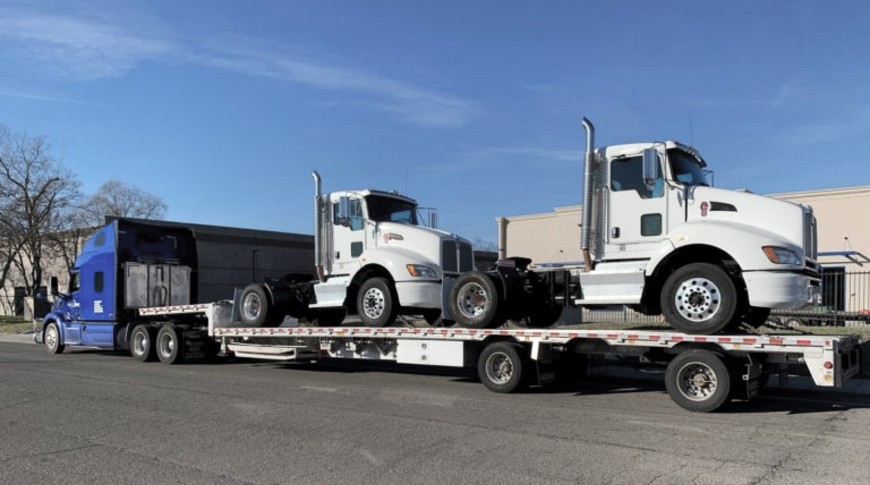 Mostly, when one talks about Commercial trucks, semi-trailer trucks are meant. They usually consist of a tractor unit (like Peterbilt 389, for example) and one or more semi-trailers that carry freight (like a Cottrell 10-car hauler).
Hauling commercial trucks may seem rather difficult because of their size, but when a professional takes care of all the details, the transportation process will go smoothly and trouble-free.
In case, commercial trucks are not the only heavy vehicles you are planning to ship, we advise you to check our full guide on Heavy Equipment Hauling. There you can find more detailed information on shipping farm equipment, tractors, excavators, bulldozers, and other heavy equipment.
How Does The Transportation
Of Commercial Trucks Work?
Cross Country Truck Shipping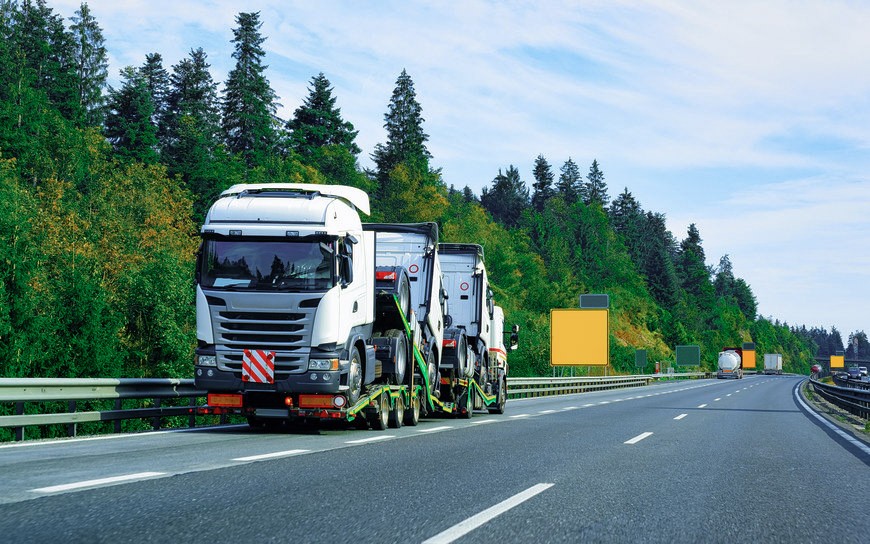 Transportation of the semi-trailer is rather easy as it can be simply attached to any tractor unit and hauled from one location to another.
When it comes to the transportation of a tractor unit itself, the process becomes more complicated as there are some ways the vehicle can be shipped.
First of all, the tractor unit can be loaded on a semi-trailer (which is hauled by another tractor unit) and transported to the delivery location. But when this type of shipping is used, extra attention should be paid to the height of the truck.
There are 3 types of semi-trailers that may be used for transportation depending on the height of the tractor unit(s) that needs to be shipped:
– flatbed truck – maximum load height of 8'6";
– step deck truck – maximum load height of 10'2'';
– lowboy truck – maximum load height of 12'.
If the Commercial truck you are planning to transport exceeds the height of 12', it needs to be shipped on a lowboy truck with an escort service going before and after the trailer to make sure that the road is good for oversize freight. They also warn other vehicles about oversize cargo.
Another way to transport the truck unit is towing it with the help of another truck. In this case, the front wheels are pulled onto the tractor unit and properly fixed. This way of shipping looks similar to shipping a regular vehicle with a tow dolly.
And the last and probably the easiest way is to have the tractor unit driven away for you. In such a case, the shipping company will hire a truck driver, who will drive the trailer from point A to point B.
So once you submit a quote and choose the company that will be shipping your truck, the logistics manager will ask you to provide them with the exact pick-up and drop off addresses and detailed information regarding the vehicle: its year, make, model, height, and modifications if any were made.
The professional team of dispatchers and shipping managers will check the specification of the vehicle and road restrictions and find the best route for the driver to go. After that, once the exact carrier is assigned to your order, you will receive his details (like name and phone number) and he will call you in advance to negotiate the pick-up and then drop-off time.
Overseas Commercial Truck Shipping

If you are planning to move the commercial truck overseas, you have nothing to worry about. Even though at first the process may seem a bit difficult because of the paperwork that needs to be done, shipping a semi-trailer overseas is actually much easier than shipping it cross country.
After you provide the shipping company with the route, estimated dates, and vehicle details, your personal shipping manager will look over all this information and choose the most efficient way (if more than one is available) to transport the truck overseas.
All in all, for commercial trucks there are 3 transportation methods available:
– container transportation is the most cost-effective method, but only available if the vehicle can fit into a container;
– Flat-rack method is more expensive than the previous one but can be used for any kind of truck. Besides that, inoperable vehicles are mostly shipped this way as the vehicle is loaded on a flat rack and then put onto the top deck of the vessel using a crane;
– RoRo shipping is only available for operable trucks as they are driven on and off the ship. Shipping companies may also have height restrictions and usually, only vehicles that are less than 15' high can be transported this way.
Commercial Trucks Hauling Rates
Cross Country Commercial Truck Shipping Rates
Cross-country shipping rate is usually defined by only two factors: the size of the commercial truck and mileage. Below you can find an average rate for commercial truck hauling based on the last orders we had.
Overseas Truck Hauling Rates
As well as cross-country shipping rate, the price for shipping the commercial truck overseas varies greatly depending on the size of the truck, the route, and the type of transportation you choose. As there are so many overseas and international destinations and so many types of trucks, we cannot provide you with the average rate, unfortunately.
Instead, we decided to provide you with rates on the last shipments on the quotes submitted with Compare the Carrier. But in order to get the exact rate for shipping your truck, we advise you to request the quote here. It's very easy and you only need to input the pick-up and drop-off location and the make and model of the truck.
Ro-Ro

Kent, WA to Honolulu, HI

Flat-rack

Honolulu, HI to Los Angeles, CA

Volvo Cascadia Sleeper (inoperable)

Flat-rack

San Diego, CA to Anchorage, AK

Ro-Ro

Los Angeles, CA to Fairbanks, AK

Ro-Ro

Tacoma, WA to Juneau, AK

Ro-Ro

Soldotna, AK to Port Angeles, WA
What To Pay Attention To
When Hauling Commercial Trucks?
There are a few things we advise you to check and pay attention to before shipping a truck.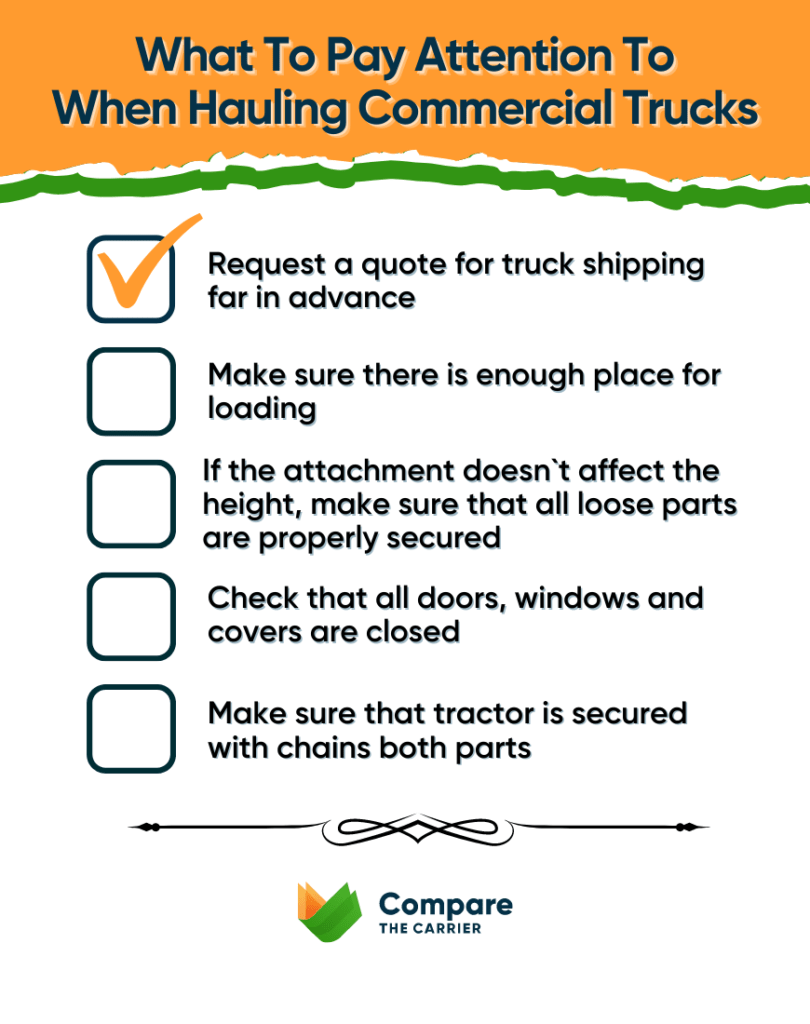 1) Request a quote for truck shipping far in advance, so you will have more time to get everything scheduled. That is especially important if are shipping a vehicle overseas.
2) Before the driver comes to pick up the truck, make sure there is enough place for loading.
3) Once the tractor unit is loaded onto the trailer, make sure that it is properly fixed and tied down.
4) Don't forget to close all the windows and lock the doors.
Also when you receive the truck unit, make sure to check it for any damages just in case. If there are any, note them in the Bill of Lading and contact your logistics manager as the shipping company will help you submit a claim to the insurance company and they will send you a check to cover damages.
Exceptional attention to detail and experience in hauling heavy equipment is essential when planning the transportation of Commercial trucks overseas or hauling them cross country. Choosing the best route and the most efficient way of shipping ensures that the vehicle arrives on time and no extra costs will be spent. Compare the Carrier works with the best US shipping companies, and once you request a quote on our website, you will have no doubts that hauling your commercial truck will be stress-free and happens with no delays.