What Is Excavator Hauling?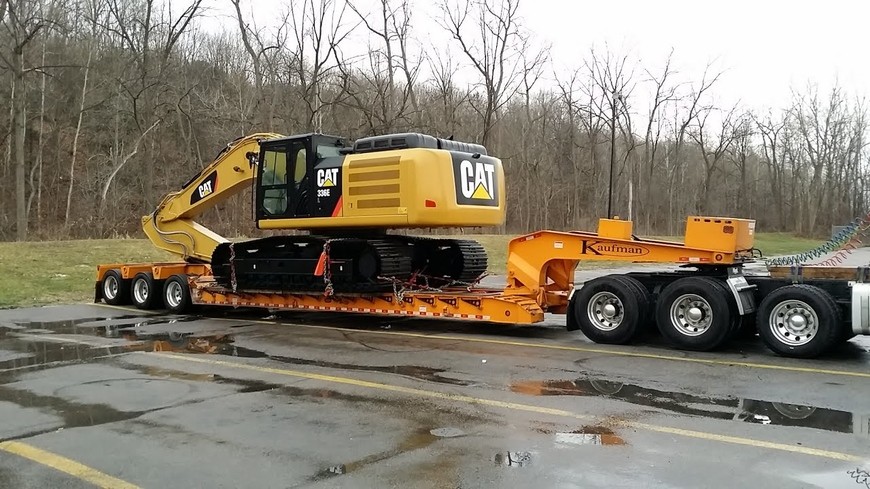 Excavators are one of the most common kinds of heavy equipment which can be seen on a construction site. These machines are used for digging earth or any other kind of soil to create foundations, trenches, and so on.
This article is a part of our guide about heavy hauling. You can find more useful information on this topic by clicking here.
How Does Excavator Transportation Work?
Cross Country Excavator Shipping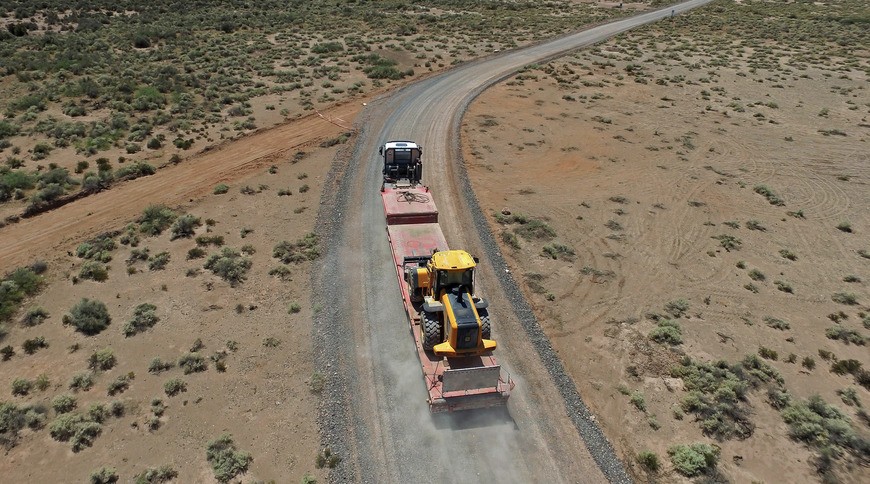 Having your excavator transported cross country is very easy with Compare the Carrier. You only need to request a quote by providing the pick-up and drop-off locations, model of the equipment, and your email (or phone number), so we could send you the details of shipping.
You will then receive a few quotes from the best US shipping companies that we collaborate with. Once you choose one, you need to provide the exact dimensions of the excavator if any modifications were made.
Your shipping manager will analyze the details, check the drivers, and assign one to transport your vehicle. They will also plan the route and take care of all the details like checking load restrictions, loading the vehicle on the trailer, and hiring an escort service (if needed).
Once the shipping date comes, the driver will negotiate the pick-up time with you, load the excavator, make sure it's properly secured and head to the destination point.
Overseas Excavator Hauling
If you need to ship an excavator overseas or internationally, the process will be a bit more difficult: besides having your equipment shipped from port to port, it also needs to be transported to the port location.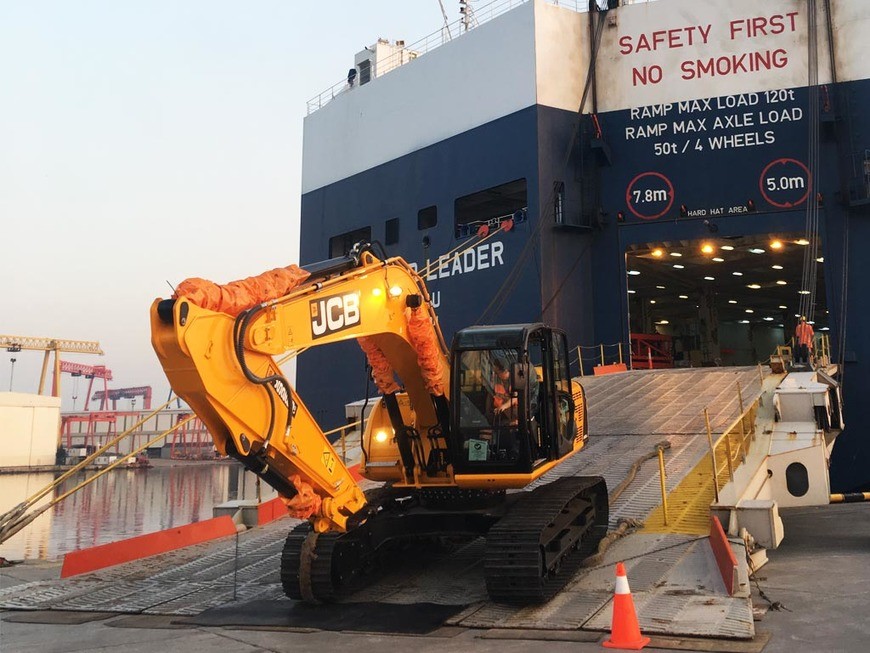 So once you choose the shipping company, the manager will plan the transportation in 2 steps: decide what type of overseas shipping is required for your equipment (container, RoRo, or Flat rack) and book the shipping dates accordingly. After that, they will also schedule a driver to transport the excavator to the port.
Also when shipping any kind of vehicle overseas, you need to have additional documentation on file and your shipping manager will help you to take care of all these details.
Cross Country Excavator Transportation Rates
The weight of an excavator may vary from 8,000 lbs to 1,000 tonnes and the dimensions of the equipment affect the shipping rate, as well as mileage and transportation time frame. Besides that, transportation of a small vehicle differs from the transportation process of a large one as extra precautionary measures are required (like escort service). In the table, we offer you the average rate for shipping an excavator.
Overseas Excavator Hauling Rates
As well as the rate for cross-country shipping, the overseas shipping rate depends on the vehicle dimensions (height, length, width, and weight) and also on the transportation type that is required. Unfortunately, there are no fixed rates for shipping different types of excavators, but we can provide you with the cost of some of the latest shipments.
Caterpillar 300.9D – Container transportation from Kent, WA to Juneau, AK – $2980
Caterpillar 320 – Roll-on/Roll-off, from Los Angeles, CA to Kahului, HI – $5945
John Deere 670G LC – Roll-on/Roll-off, from Anchorage, AK to Kent, WA – $9780
If you are planning to transport any kind of excavator overseas, we advise checking the rate in advance by requesting a quote here. It's very simple as you only need to mention the name of the equipment and pick-up and drop-off places.
What To Pay Attention To
When Hauling An Excavator?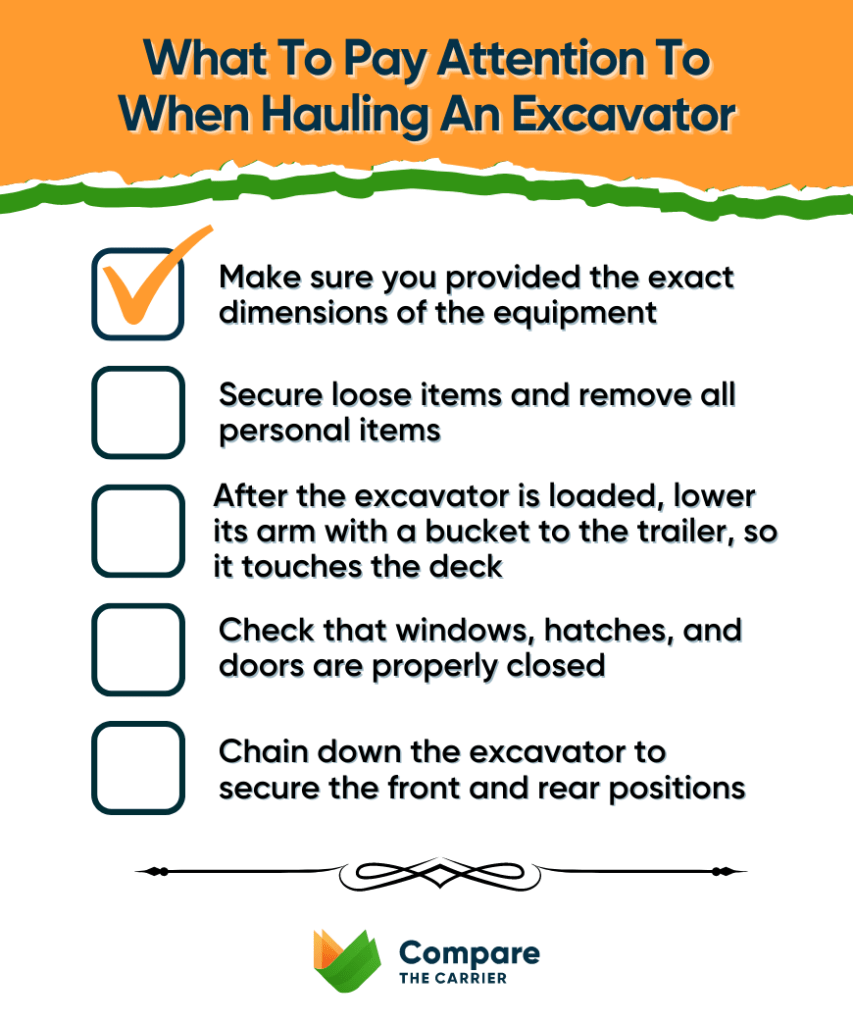 When shipping an excavator and preparing it for transportation, we advise you to pay attention to the following details:
1) Make sure you provided the accurate dimensions of the equipment as it affects the type of trailer or type of transportation required. Besides that, any load with a height over 13ft requires a special permit for transportation and some drivers do not have them.
2) Before equipment is loaded, make sure that loose items are secured and also that the cab and storage compartments have no personal items.
3) After the excavator is loaded, lower its arm with a bucket to the trailer, so it touches the deck.
4) Do not forget to check that windows, hatches, and doors are properly closed.
5) Chain down the excavator to secure the front and rear positions.
When transporting heavy equipment, it may be complicated and rather time-consuming to find the right company. But here, in Compare the Carrier, we have a number of top US carriers specializing in heavy hauling. They are ready to provide you with a stress-free experience, so you can be sure that your equipment will be shipped in the best way.