In this article, we will focus on the specifics of shipping vehicles in Michigan. We have collected a lot of useful information about the rules, tariffs, and the most reliable auto carriers in this state. After all, we are well aware that it will take a lot of time to overtake the car, but this is not the most important thing.
More importantly, during a long trip, natural wear of parts occurs, and tire wear (and sometimes the trip is simply impossible due to the fact that the car is out of order). Car transportation allows you to forget about all such worries: the car is safe, under round-the-clock control, and in the most favorable conditions.
Shipping A Car To And From Michigan At A Glance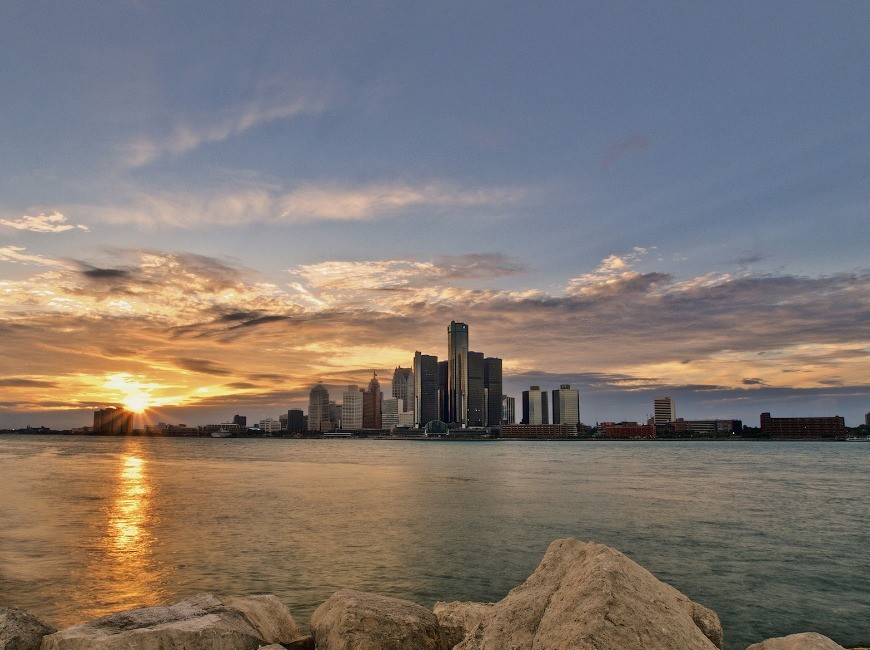 Michigan is a state in the northeastern United States. Its territory is washed by four of the five Great Lakes of America, due to which it is called the "Great Lakes State". Michigan is a real paradise for outdoor enthusiasts. There are more than 10 thousand lakes of different sizes, many rivers, and waterfalls. Incredibly beautiful landscapes, hundreds of kilometers of scenic trails, excellent conditions for surfing, canoeing, and fishing at any time of the year – all this attracts tens of thousands of tourists from all over the world to Michigan.
It will be of interest to lovers of Victorian architecture, connoisseurs of historical monuments, and anyone who wants to know the real America of the Midwest. That is why, the situation when you need to transport a car to it or, on the contrary, take it out of the state is not rare. Someone moves to this picturesque corner of the country, someone came for a couple of weeks and faced a car breakdown and had to stay longer. One way or another, the issue of transporting a car is relevant for this state.
How Does Michigan Auto Transport Work?
When you need to send a car to another state or even cross country, or vice versa, you have moved to and want your "iron horse" to come to you, you only need to take a few steps. We invite you to familiarize yourself with our step-by-step guide to delivering cars to Michigan or from this state to any other corner of the country.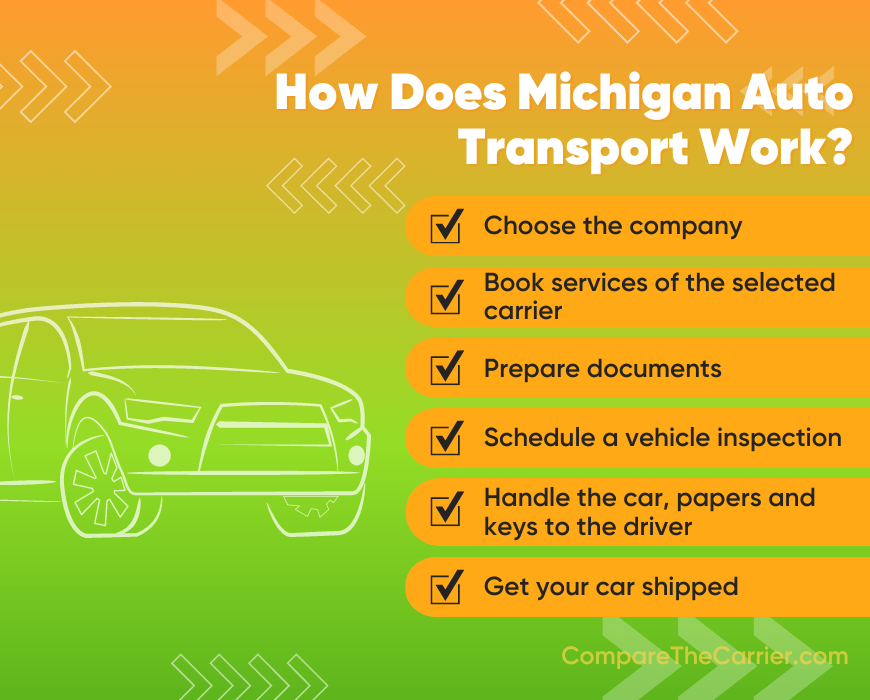 And that's it! Nothing more is required of you. It's worth noting that some companies offer a handy tracking option so you can track where your car is currently in transit. This is extremely convenient.
There are four main ways for Michigan auto transport cross country or between states:
Terminal-to-Terminal Michigan Car Shipping
You drop your car off at a terminal, from where a carrier picks it up and delivers it to a terminal closest to the location you're going to.
Door-to-Door Michigan Auto Transport
The car is picked up from a location of your choosing and dropped off where you need it sent. It is the most convenient option of auto transport in Michigan.
Terminal-to-Door Car Shipping MI
You drop off the car at a terminal, and the carrier delivers it to a location of your choosing.
Door-to-Terminal Transportation
You choose the pickup location and the car is delivered to a terminal closest to your intended destination.
There are various advantages and disadvantages with each option, so you should discuss them in depth with your auto transport company.
How Much Does Michigan Vehicle Shipping Cost?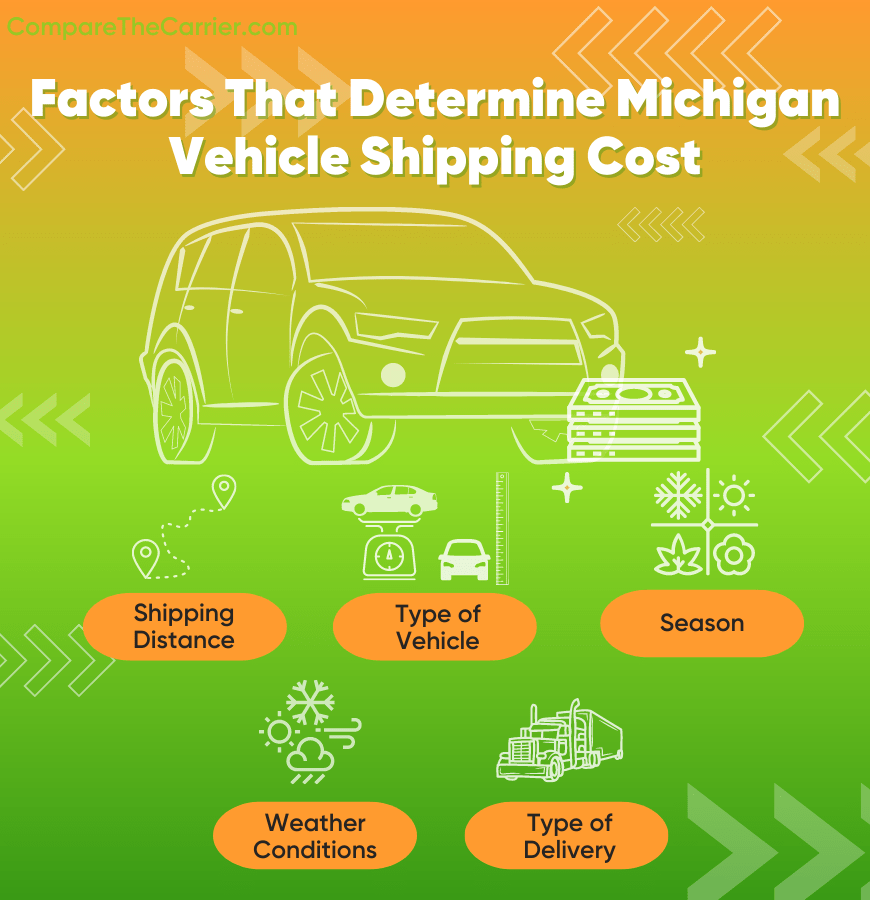 You should understand that prices can fluctuate significantly, as they are formed depending on a large number of factors, including:
Top 5 Michigan Auto Transport Companies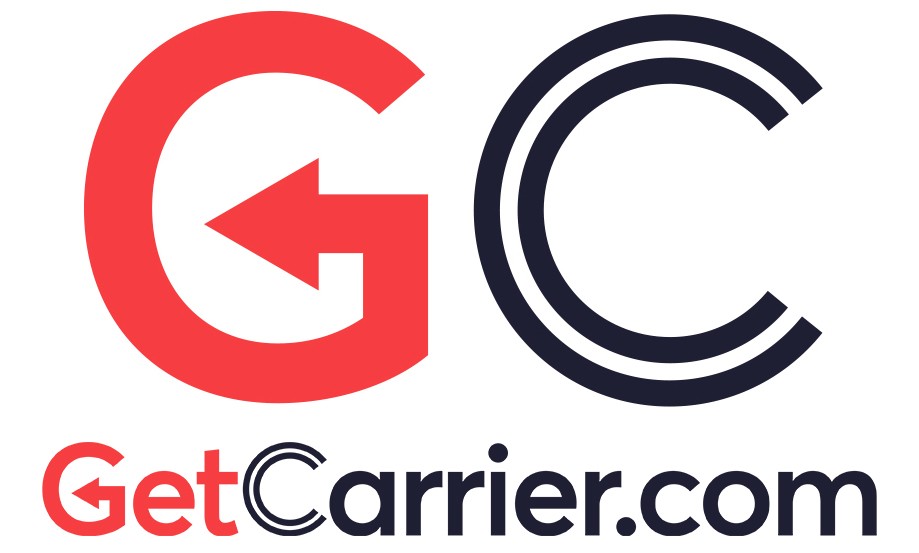 The company has an impeccable reputation and boasts extensive experience in the delivery of almost all types of vehicles. The cars are delivered within the agreed time, with integrity. It is also convenient that the service can be ordered online in just a couple of clicks. You do not have to look for time to come to the office and agree on all the details in a personal meeting.

This carrier offers its services throughout the United States, including Michigan. It has a good reputation in the transport services market and boasts such advantages as: no prepayment when booking a car transportation service, a high level of service, the use of high-tech software, 24/7 work.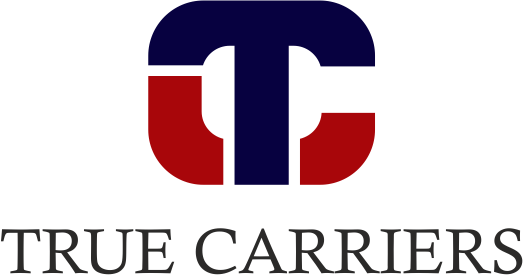 The company has established itself well in the market of services for the transportation of cars, motorcycles, boats, etc. A huge number of reviews indicates that it can be trusted and that it really does a good job with the tasks assigned to it. The company's fleet is simply huge, so it will not be difficult to find a car that can transport your car at any time convenient for you from one point to another. The advantages of working with it are: transparent pricing, no prepayment, and good service.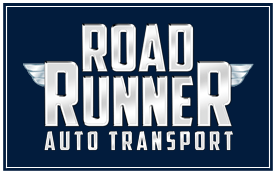 #4. RoadRunner Auto Transport
The company has been on the market for over 30 years. With experienced staff in all areas of the company, it can ensure the timely and safe delivery of any make and model of car at an affordable price.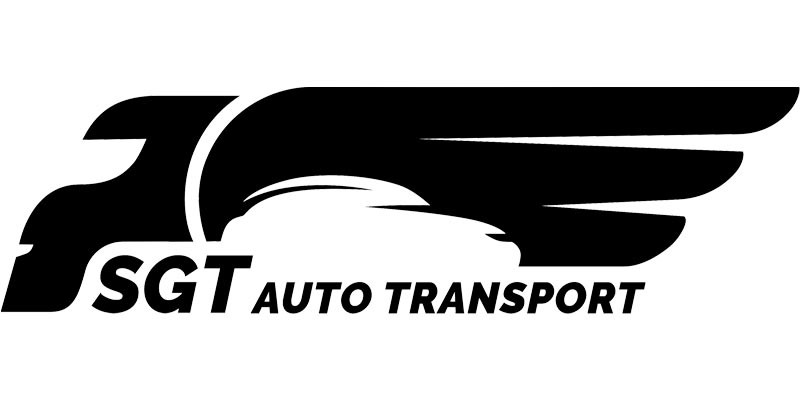 For people who strive for maximum comfort and want to ensure everything will go smoothly, contacting this particular company would be a good idea. The company has a good rating, and is distinguished by reliability (does all the work on time), affordable prices for services, responsibility, and more.
What Documents Do You Need When Shipping To Michigan?
It is vital to have all the necessary paperwork when transporting a car from Michigan. Proper documentation will ensure no delays in the shipping process and ensure that you have a smooth and seamless experience. Several types of documents are needed when shipping a car to or from Michigan. These include: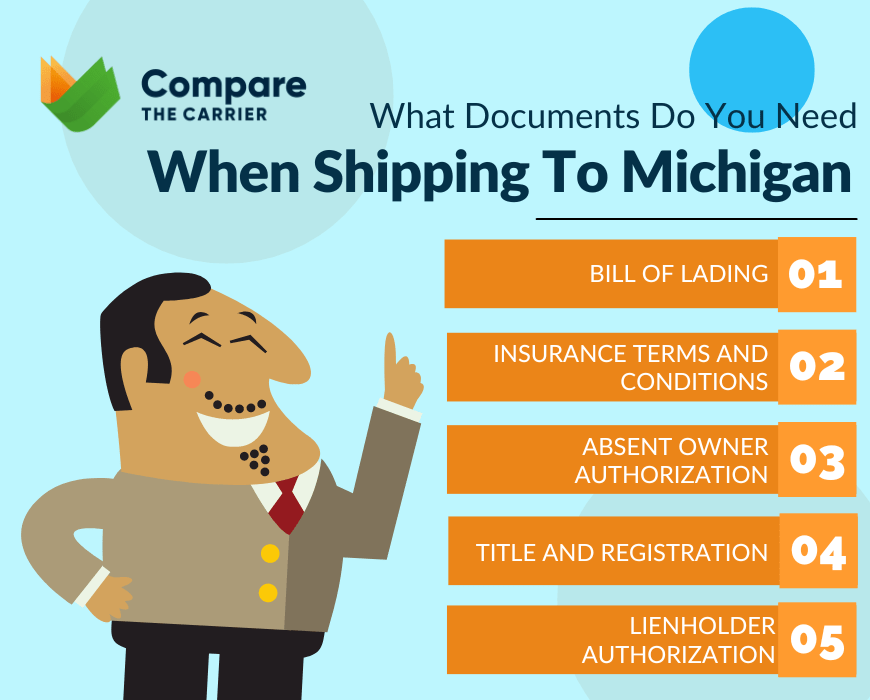 Bill Of Lading
A bill of lading is a contract between the carrier and the cargo owner, and it acts as a receipt for a shipment that has been loaded on board the carrier's vehicle. It contains crucial information such as the names of the consignor and consignee, type of cargo, and weight.
Insurance Terms and Conditions
These are the terms and conditions regarding your insurance coverage for your vehicle. Note that you must purchase liability insurance under the FMCSA. Your shipping agent will help you obtain this document. Insurance is not a mandatory document.
Absent Owner Authorization
If a person other than you is picking up your vehicle from transport, you must sign this form to authorize them. A car transport company can supply an absent owner authorization form.
Title and Registration
You must bring these documents with you when dropping off or picking up your vehicle from transport. Scan them and email them to your transporter beforehand if you have them at hand.
Lienholder Authorization
The lienholder authorization is a document that your vehicle owner obtains from the bank or lender to confirm the permission for transportation. The paper should be faxed to your auto transport company and contain a bank manager's signature.
We hope that the information about car transporters Michigan provided by us was useful for you, you learned a lot of new things for yourself in the field of car transportation, and decided who should be entrusted with the transportation of your "iron horse". Compare the Carrier it's a project created to help compare shipping quotes from the best auto transport companies and save your time and money.
Will my carrier provide on-road insurance for my vehicle?
It all depends on which company and under what conditions cooperation will be carried out. Many auto transport companies Michigan offer this option.
What Goes into the Cost of Shipping My Vehicle?
The price of transporting a car varies from a huge number of factors, including the distance between points "A" and "B", the type of vehicle that is needed to transport a car, seasonality, etc. The agreed price includes everything that may be needed to complete the task for the transport company.
Can I File a Complaint Against a Car Shipper in Michigan?
Transport complaints made against commercial trucking companies are handled by the Michigan State Police. Complaints about Michigan vehicle transport should be made to them via email. The police will investigate your transport complaint, and try to resolve the situation as quickly as possible. You can also file a complaint with the transport company with which you have entered into an agreement.
How long does vehicle shipping to/from Michigan take?
Short distances, such as those under 200 miles, take on average up to a couple of days. If the distance is longer, for example, 2000 miles or more, auto shipping to/from Michigan takes up to 9 days. Several factors can affect how long car transport to/from Michigan takes. Factors such as the weather, road construction, traffic, detours, seasonality, driver's hours, and distance can affect vehicle transport to/from MI. It is also worth noting that different companies set different delivery times, so if you need to deliver the car urgently, you should carefully study the offers on the transport market.