Motorcycle transportation is a rather popular service, in general, it seems to be usual car shipping but has some important differences you need to know. That's why here we have prepared for you a short motorcycle shipping guide that includes the following topics: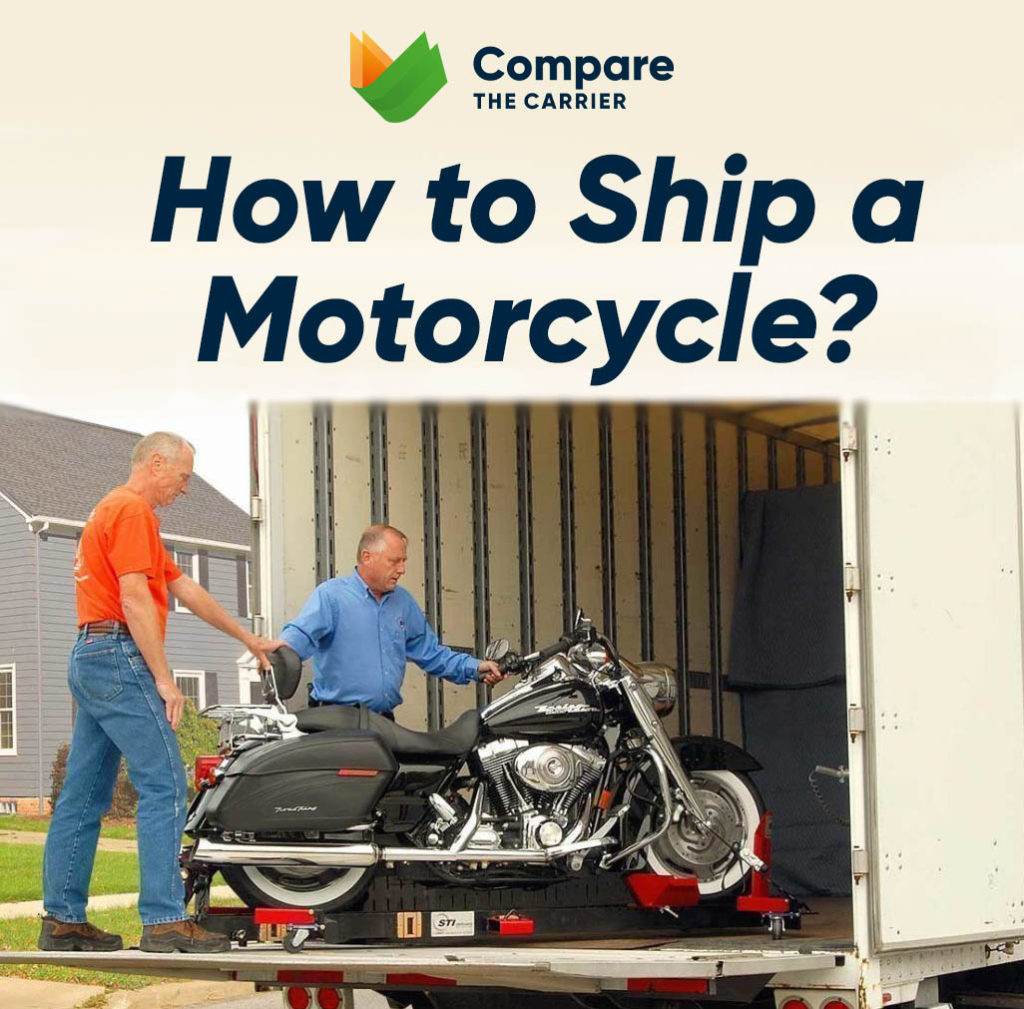 How To Ship A Motorcycle? Step-By-Step Guide
Shipping a motorcycle is very similar to shipping any other kind of vehicle and only has 3 main steps: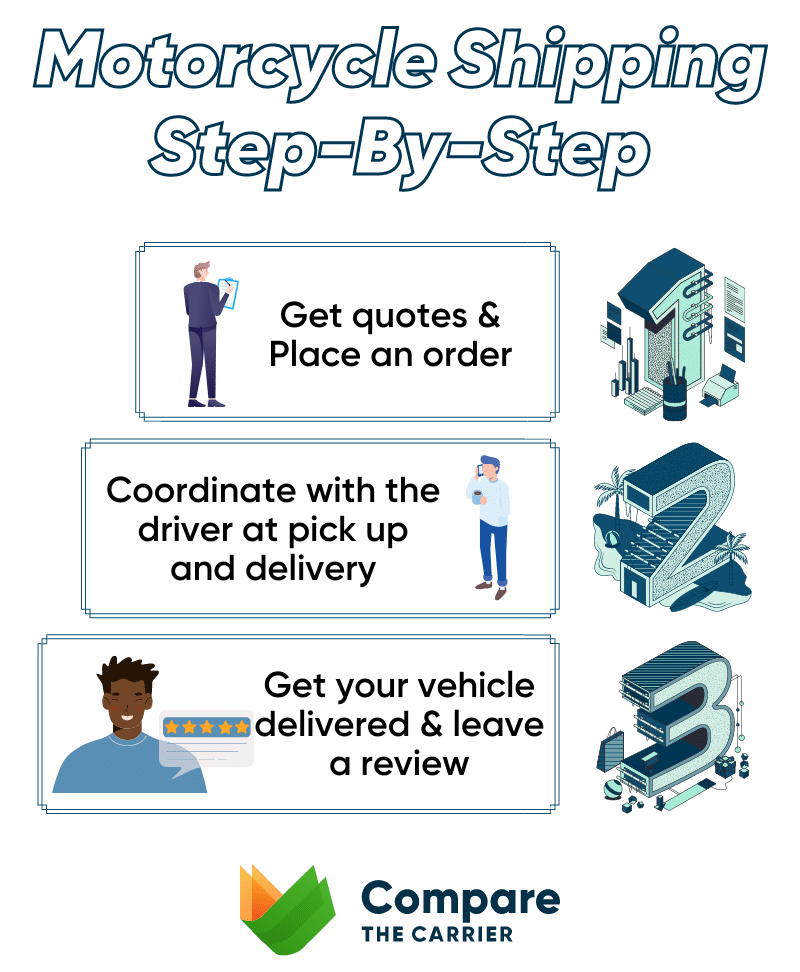 Step-by-Step motorcycle transportation explainer, all detailed information & professional advice you need to know before moving your bike
Get quotes on Compare the Carrier, choose a company and place an order.

First of all, after setting up a quote on our website you will get quotes from 5 shipping companies that match your request the most, then you need to decide what transportation company to go with, provide them with all the required information that includes your exact pick-up and delivery addresses, year, make and model of your bike (also don't forget to mention if it's inoperable or has any modifications) and choose the type of the trailer (an open or an enclosed one). The shipping agent will send you confirmation paperwork to sign and will start working on your order.

Coordinate with the driver at pick up and delivery.

Once they set the deal with the driver, you will get an email and text message with his details (carrier company name, driver's name, and phone number). A day before the pick-up and delivery you should expect a call from the driver to negotiate the exact time when you can meet him to release and then receive your bike. 
Important! Make sure to request the Bill of Lading at the time of pick up and delivery since in case the vehicle is damaged, you will need this document to file a claim to the carrier insurance company.

Rate the service you got and leave a review.

Make sure to leave a review about your motorcycle shipping experience to help other people make the right choice. It's especially great if you describe in detail what you like or not and whether you would recommend this company to others.
How Much Does It Cost To Move A Motorcycle?
Though motorcycle shipping is definitely not cheap, it is far more affordable than shipping a car, especially for short distances (up to 1200 mi). For example, shipping a motorcycle for a long distance can cost up to $900, while shipping a car for the same distance usually costs around $1300.
If you are looking for exact motorcycle shipping rates you can go here and request free motorcycle moving estimates in 5 minutes.
Of course, the shipping cost varies depending on mileage and availability of drivers on a particular route, shipping method, season, condition, and size of the bike. Let's take a closer look at each of the abovementioned factors that affect the shipping price.
Length of the route
It's totally understandable that the longer the route is, the more it will cost to ship a vehicle. But sometimes it happens that longer routes are more popular among drivers and shipping a motorcycle on such a route is cheaper. In this case, shipping a vehicle on a popular route may be more cost-effective (for example, transportation from Long Island, NY to Miami, FL costs less than shipping from Long Island, NY to Tallahassee, FL). If the cost is very important for you, you can negotiate with the driver, meet him at the big city located nearby or on the highway, and ride your bike home.
The shipping method
The shipping method (open or enclosed) probably plays the most important role in price formation since enclosed transportation is usually 50% more expensive than open transportation. Motorcycles as well as other vehicles can be shipped both on open and enclosed trailers, but they are more subjected to damage on an open trailer as even a little rain or snow may change the vehicle's appearance. Therefore, even if the price may seem a bit high, we highly recommend you opt for an enclosed trailer if you are shipping a vintage, brand new, or show motorcycle.
The season
The season is also an important factor. Shipping a motorcycle during the summer months is more expensive, while the best time is from late autumn to early spring. Also if you are shipping the vehicle within northern states (like New Hampshire, North Dakota, Washington state, Minnesota, Michigan, and some others) we recommend you not to move the motorcycle in winter. It may be problematic to find a driver ready to go to the northern states while it's freezingly cold up there and he has a risk of getting stuck due to heavy snowfall.
The condition and size of the motorcycle
The condition and size of the motorcycle may also affect the price for the transportation, but it mostly happens only when the vehicle is a Tri-Glide bike or has a sidecar. In such cases, the weight and size of the vehicle change a lot, and usual trailers with ramps for bikes will not be available to transport the motorcycle. In this case, a flatbed or an enclosed trailer is required.
Below you can see a shortlist of motorcycle shipping prices within the mainland: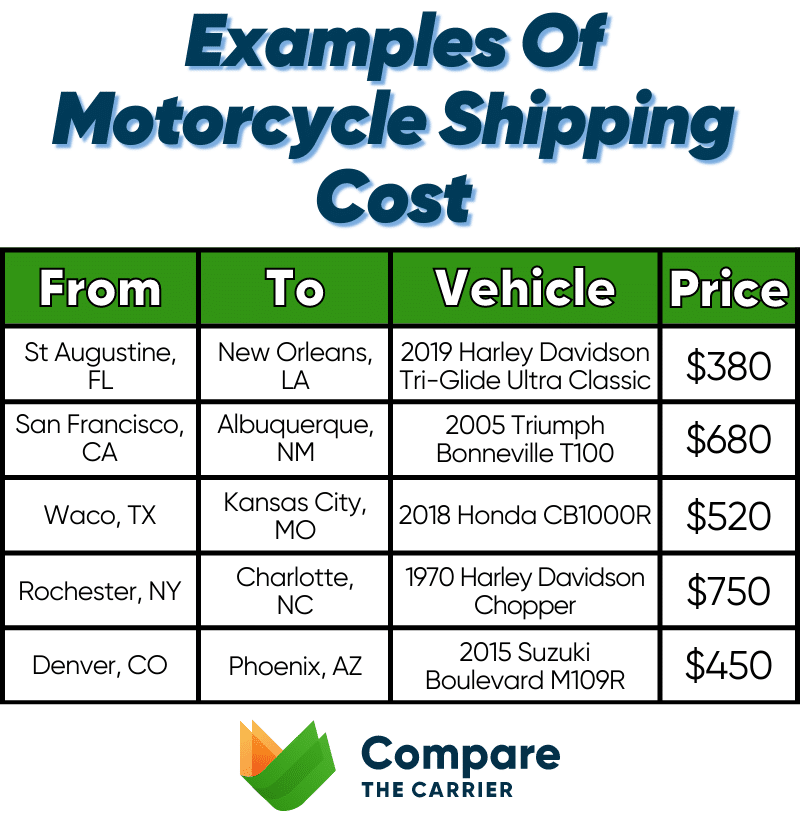 Even though the safe arrival of your steel baby to its new home is mostly in the hands of the carrier, we advise you to do a few things to prepare your motorcycle for the trip. These small but still very important steps can ease the whole process and protect your vehicle.
Can you ship a motorcycle if it is not running?
Yes, we can provide you with quotes for shipping any kind of motorcycle whether it is operable or not. However, you should tell your shipping agent the exact year, make, and model of the vehicle as well as its condition to understand what type of trailer is required to transport it. You can also send a photo of the motorcycle for a better understanding of the situation.
Is it possible to pay you the total amount with a credit card when the motorcycle is delivered?
Usually, payments are divided into 2 parts: a partial deposit is charged to your credit card after the vehicle is loaded on the trailer and the remaining balance is paid directly to the driver with cash or any certified funds. Some drivers also accept Zelle or CashApp. If you are not planning to be at the delivery location, you can pay the driver at the pick-up address or ask your friend or relative to receive the vehicle and pay the driver.
What is the Insurance Coverage while shipping a bike?
The insurance coverage of the carrier company depends on whether they have an enclosed or open trailer. For an open trailer, the insurance coverage is up to $100 000 and for an enclosed one it may be as high as $250 000.
Can I transport the bike on an open trailer but put a special waterproof cover on it?
Yes, you can do that, however, the cover may get lost during transportation due to the strong wind. If you own an exotic or a classic motorcycle, we highly recommend you to choose enclosed transportation service which guarantees that the motorcycle will not get damaged during snow, hail, or some other unexpected weather conditions.