The question of moving between states can be before any of us. Perhaps tomorrow you will receive an interesting offer from a company that will need your skills and experience, but hundreds of kilometers from your usual place of residence. Or maybe you will find the love of your life and you will have to leave your home, friends, work and move to a new place.
Such a decision is not easy for anyone, and the process itself is far from instantaneous and not always smooth. To minimize stress and ensure the most comfortable conditions when changing your place of residence, you should seek the help of professionals. Transport companies can easily cope with such an ordinary task as moving from state to state, of course, when it comes to companies with an impeccable reputation. You can find such a company using our service. Compare the Carrier it's a project created to help compare shipping quotes from the best auto transport companies and save your time and money. Read our article on how to move from one state to another.
Steps To Moving Out Of State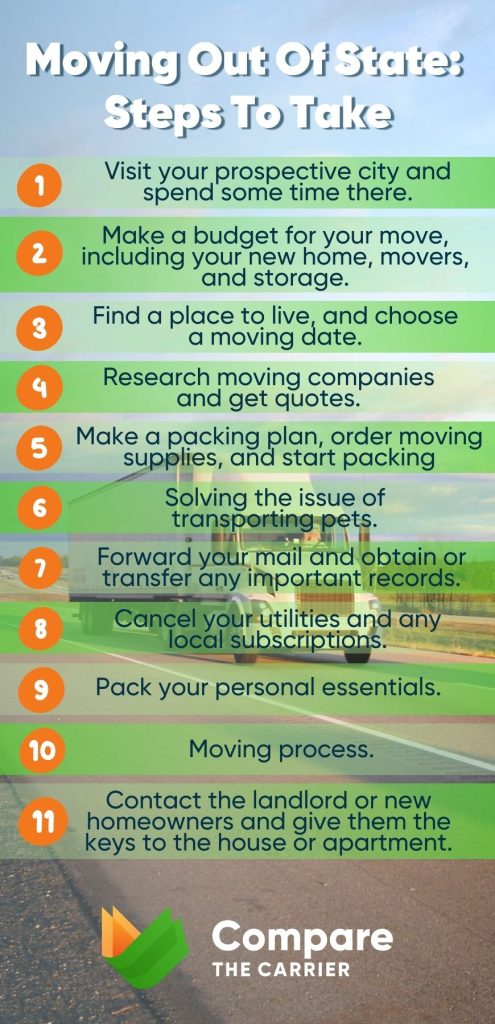 STEP 1: Visit your prospective city and spend some time there.
There are situations when the move is forced and a person does not have the opportunity to avoid it (when it is necessary to move to elderly parents, a loved one, etc.). But in most cases, the move is associated with job offers and the desire to change the familiar environment – in such cases it is better to visit the city in which the person is to live, to feel its atmosphere. After all, it is important to understand the culture of the place, to assess the level of comfort of life in the chosen city, the level of infrastructure development, etc.
STEP 2: Make a budget for your move, including your new home, movers, and storage.
The ability to take all things with you to a new place, etc. will depend on this. Maybe something will have to be sold or left with relatives, and taken to a new house or apartment a little later, when the issue of finances is resolved.
STEP 3: Find a place to live, and choose a moving date.
To choose housing, you should use the services of a good real estate agent in the new state, he will be able to conduct online tours of housing and choose the best option, taking into account the budget of the customer.
You should also think about the timing of the move in order to save the budget. Mid-week and mid-month moves are cheaper because movers are less busy. You should also avoid holiday long weekends and in-and-out college weeks, as the movers are in demand during this time and charge a higher price tag for their services.
STEP 4: Research moving companies and get quotes.
You can choose a company using our service. We have collected up-to-date data on the work of various transport companies in the United States.
STEP 5: Make a packing plan, order moving supplies, and start packing.
The plan is needed so that when the car is delivered to the house there is no situation that all things are still in their places and everything will have to be randomly thrown into the car. Packing materials are needed in order to ensure the integrity and safety of things during transportation.
STEP 6: Solving the issue of transporting pets.
If you are moving state to state with a dog or cat in another state, then the best solution is to take your animal friend in the car with you. Thus, your pet will be subjected to minimal stress. In addition, transport companies do not provide transportation of animals.
STEP 7: Forward your mail and obtain or transfer any important records.
STEP 8: Cancel your utilities and any local subscriptions.
STEP 9: Pack your personal essentials.
A long-distance move means you'll likely arrive at your house earlier than the truck, so you need to be prepared to be without your belongings for a while. Clothes for all your family members, medicines, personal hygiene items and snacks should be packed in a bag that you can carry with you. Also keep with you the contact information of your movers, insurance companies, etc.
STEP 10: Moving process.
It is very important to stay in touch with your movers throughout the entire moving process. Specify the date and time of the move in a few days. Once the trucks are on the road, you'll need to make sure everything is on schedule and moving according to plan, as well as being aware of any disruptions that may occur along the way in order to put together a convenient contingency plan. If the company has a good reputation, then most likely there will be no force majeure, but it is worth considering everything just in case.
STEP 11: Contact the landlord or new homeowners and give them the keys to the house or apartment.
Tips For Moving From One State To Another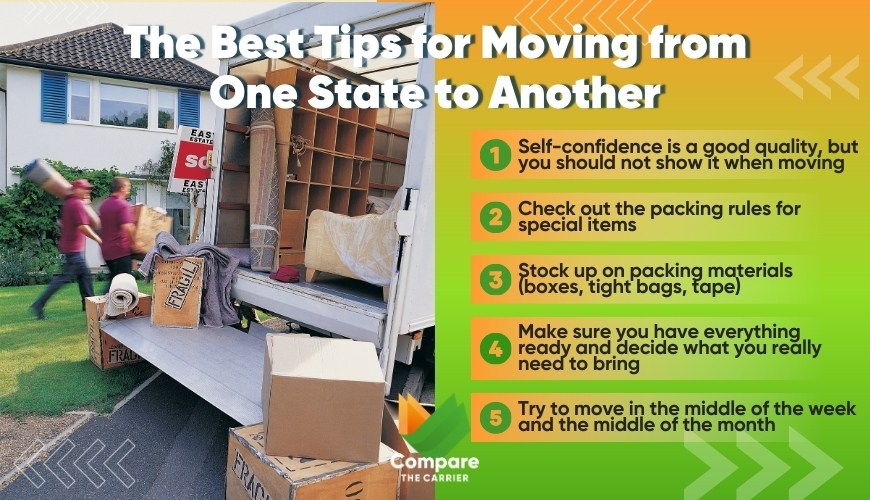 1. Self-confidence is a good quality, but you should not show it when moving
Moving between states is a rather difficult and serious task that requires a professional approach to its solution. Leveling the degree of importance of the problem, there is a risk of facing large financial losses, not to mention the fact that moving is difficult not only in terms of organizing the process but also physically (long journey, packing things, loading boxes into a car, etc.) .
2. Check out the packing rules for special items
Special items include: musical instruments. refrigerator, billiard table, safe for storing valuables, etc. For example, a refrigerator can only be transported in an upright position, but a safe (despite the fact that it is large and seems quite strong) must be transported as carefully as possible, because a slight shaking of the car can cause the lock to fail or the electronic mechanism to jam. For this reason, if you need to transport not just personal items, but items of special value (including antiques), then you need to contact only those companies that have an impeccable reputation in the transport services market.
3. Stock up on packing materials (boxes, tight bags, tape)
There are never too many boxes when it comes to moving. It may seem that everything will fit in several boxes, but in fact, when packing, there will be many types of things that will need to be placed separately from each other.
In the arsenal you should have boxes of three sizes:
It should be noted that cardboard boxes can have different thicknesses. The most durable option is made of five-layer cardboard. It is the best guarantee that nothing will happen to your property.
Soft things can be safely packed in bags, because nothing will happen to them, and you can get them at any time. It is also worth packing the essentials separately so that you do not have to look for them for a long time. They should always be at hand. The same goes for valuable items that should not be transported in the same box with ordinary ones. You need to collect them yourself and always keep them in your field of vision when moving.
4. Make sure you have everything ready and decide what you really need to bring
It's very simple: the less things you take with you in a new place, the more money you will save on transport costs due to the lower weight of the package. Take an inventory of the entire house and review your items one by one. Be ruthless when deciding what to take and what to leave – after all, your own money is at stake.
5. Try to move in the middle of the week and the middle of the month
At this time, moving rates are usually lower.
Is it hard to move from one state to another?
Of course, after all, a huge number of issues need to be resolved, from packing goods to choosing a transport company, registering a vehicle in a new state, etc.
How much does it cost to move between states?
The price of moving state to state  in each case is determined individually. It all depends on: the time of the move, the number of things, the need to provide related services by the transport company, the distance, etc.
Do I need to use the services of a transport company or is it better to transport things on my own?
Delegating the transportation of things as part of the move is the best way to move to another state. This will ensure the safety of things, save personal time, finances, etc.