Compare the Carrier it's a project created to help compare shipping quotes from the best auto transport companies and save your time and money. In this article, we have collected useful information about what features unite the worst auto transport companies and what you should definitely pay attention to before giving money for a service.
After all, sometimes customers simply do not think about the fact that some difficulties may arise during transportation within the city, sometimes they are "bribed" by a low price compared to competitors, and sometimes the site looks so bright and colorful that there is simply no thought about that someone would take the risk of providing low-quality services and at the same time stand out from the competition in such a way.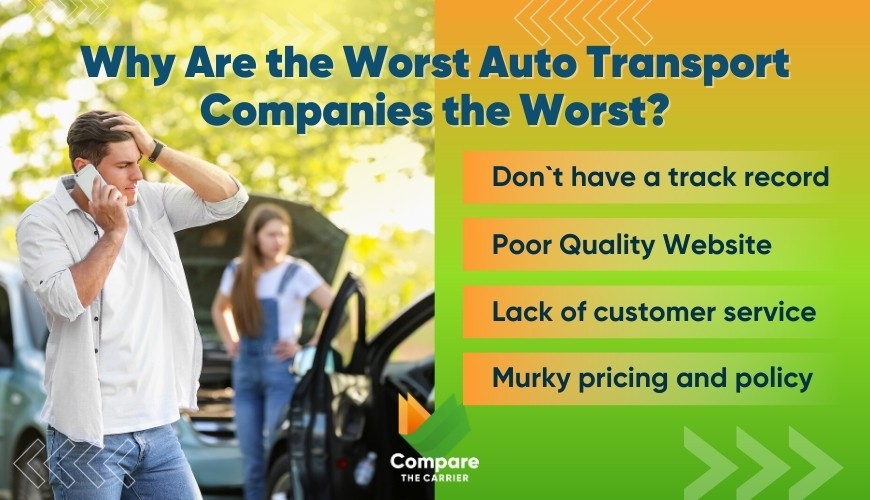 Don`t Have A Track Record
Regardless of whether you need to transport things within the city or are looking for a transport company that will transport a car from state to state, you need to focus on the company's reputation in the service market. We are talking not only about the duration of the company's stay on the market, although this is also certainly important, but also about the reviews of people who have already used its services.
Unfortunately, in the modern world, situations, when a client encounters scammers are by no, means uncommon – someone took the car with a huge number of scratches on the body, someone missed the box when moving, but someone ended up paying 2 times more than the agreed amount. Companies that are not decent and do not need to cooperate with usually do not have a track record and their experience in the market in this niche of services is calculated in days, not years.
At first glance, it may seem somewhat illogical to focus on the quality of the site when choosing a company that provides cargo transportation services. However, in fact, a website is an excellent indicator of how a company positions itself in the market, how competent it is in solving certain issues, etc. Of course, a one-page site can promote a company and it can have all the contacts, etc. But he definitely will not disclose the specifics of the transportation of different types of cargo (for example, oversized cargo), the pricing procedure, available cars, etc.
Only a multi-page website, on which each service is described in detail, will testify to the high level of professionalism of employees, that the company plans to work for a long time, and is not fraudulent. Companies that are not distinguished by decency and provide services at a low level usually have low-quality sites that, when viewed, do not give the impression that they were filled by a specialist.
Turning to one or another company for a service, we expect to receive not only its precise implementation but also the creation of the most comfortable conditions for cooperation. All this can be covered by the concept of "quality customer service". And that's something bad companies don't have. When evaluating the quality of service, it is worth focusing on the following criteria: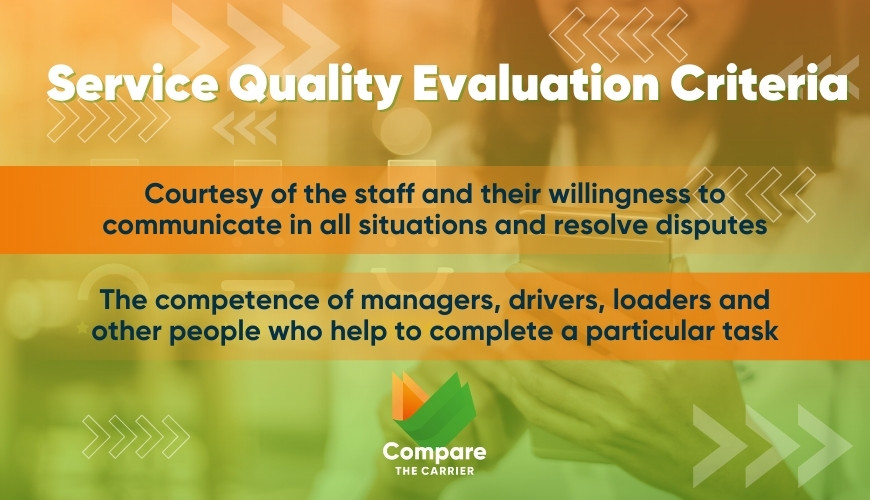 As a rule, terrible companies have no idea about the quality of service and working with them turns into a real hell for everyone.
Reading the worst transport reviews, it becomes obvious that they are united by a confusing pricing system, the presence of hidden fees and unforeseen expenses that the customer of the service faces even when the car, personal belongings or motorcycle is already on the way and there are no special options for resolving the issue. Pricing should be simple and clear – this is the position taken by companies that have a good reputation in the transport services market. This also includes the algorithm of actions in case of cancellation of the order, compensation for losses, insurance of the transported cargo, etc. The client must clearly understand what awaits him in a given situation.
Does a low price necessarily indicate that a company is dishonest?
Of course not, the pricing procedure depends on many factors. For example, if you want to transport a car in an open van, then the price of transportation in a 2-person trawl will be more expensive than if you transport 5 more cars in addition to yours. Therefore, it is worth starting not only from the price, but also from other conditions of cargo transportation.
Is it possible to check the legality of the company somewhere?
To insure yourself against different problems when dealing with auto transport and the worst auto transport you need to carefully research the carrier/broker company and consider all pros and cons. Check online reviews, get recommendations from other customers, use the company's Motor Carrier number to verify it with FMCSA.